Macau mulls future even as gamblers and tourists return
Macau's streets were packed in the run-up to the Lunar New Year after pandemic controls were abruptly lifted, but it is far from business as usual as the Chinese casino hub wrestles with questions about its future.
Mainland Chinese tourists filled winding passages leading up to the historic Ruins of Saint Paul's, and stores selling local snacks like almond cookies and meat jerky had trouble keeping up.
"We don't have enough goods for this Lunar New Year as we didn't expect this," a business owner surnamed Li told reporters.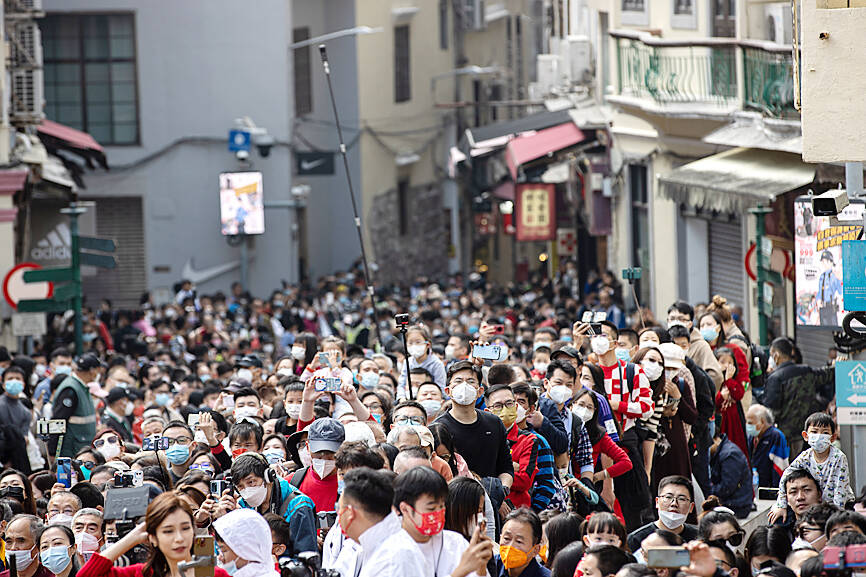 Tourists and residents watch a dragon dance celebrating the Lunar New Year in Macau on Sunday. Macau's borders reopened earlier this month and the city has launched a promotional campaign to boost tourism, offering Hong Kong residents a "half-price" round trip if they spend a night there during the Lunar New Year period.
Photo: EPA-EFE
Tourists may now be back, but Beijing wants the former Portuguese colony to diversify its casinos-reliant economy. Yet quitting gambling — and the huge tax revenues casinos generate — will be a hard habit to break.
"The government has an inherent conflict," Newpage Consulting gaming consultant David Green said. "It needs to be seen by the central government to be promoting non-gaming, but ... it has to be cognizant of maintaining its revenue stream."
Macau saw gaming revenues plunge to a record low of 42 billion patacas (US$5.2 billion) last year after the government shut down most businesses at the height of a coronavirus wave.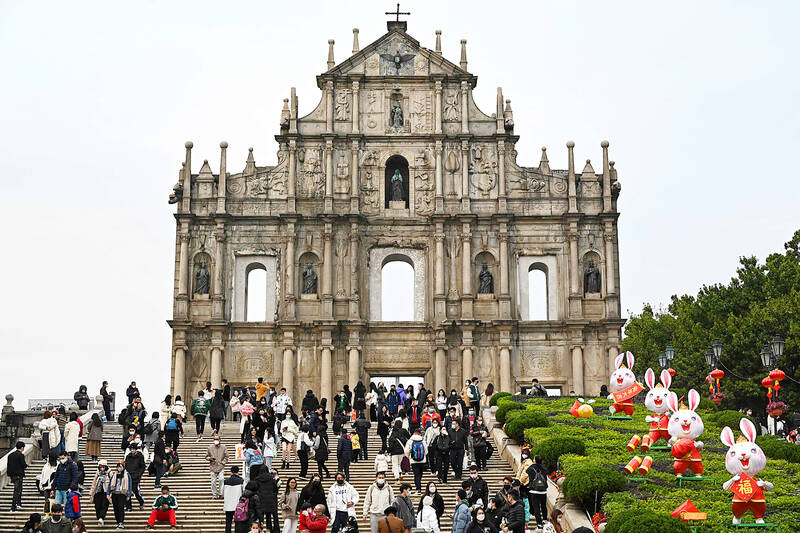 Tourists climb the stairs in front of the Ruins of Saint Paul's in Macau on Tuesday last week.
Photo: AFP
Macau issues just six operating concessions for a multibillion-dollar industry that, until the pandemic hit, generated six times the gaming revenue of Las Vegas.
Last month, the government awarded new decade-long concessions to all incumbents, effectively keeping the status quo, but adding new requirements for non-gaming investment.
The firms have since pledged a total of US$14.9 billion on projects including theme parks, convention and exhibition centers, fine dining and performance venues.
Former lawmaker Sulu Sou (蘇嘉豪) said it was "a step forward" for Macau to set clear demands for diversification, instead of relying on vague slogans as it had for years.
"Changes in the industry and shifting attitudes toward gambling in mainland China forced the [Macau] government to spell these requirements out in black and white," he said.
Sou pointed to the downfall of "junket king" Alvin Chau (周焯華), who was sentenced to 18 years in jail last week for hosting illegal gambling on a vast scale.
"It was a major signal to society that even as we return to normality, we can't use the old ways to make a fortune anymore," Sou said.
Chau was the figurehead of an industry that thrived on enticing high rollers from mainland China to gamble in Macau, by running VIP rooms and extending credit for bets.
VIP guests contributed around 15 percent of industry earnings before the pandemic, but the majority of this would be "permanently gone" due to regulatory concerns, according to Credit Suisse Group AG analysts.
"China's multi-year campaign against capital outflow and cross-border gambling carried on, rather than eased," they wrote earlier this month.
Last month, Macau dismantled most of its pandemic controls and reopened its borders, following Beijing's abrupt decision to abandon its signature "zero COVID" policy.
For residents like pharmacist Mariana Soares, the reopening capped off nearly three years of anxiety and economic doldrums — but it also came with a sense of whiplash.
"It's a shock to the system," she said. "Suddenly everyone is coming in and it's like whatever happened before had been erased."
Dance studio owner Kam Pang said he was closing his business after two "mentally draining" years, adding that he lost up to US$25,000 when the government ordered businesses to close.
"We couldn't do business because all of a sudden we were in lockdown for half a month," he said.
Eager to make the virus a memory, Macau officials have doubled down on new year celebrations with the hopes that the economic momentum can be sustained.
High-end hotels were fully booked during the festive period and officials said weekend visitor arrivals have recovered to around half of pre-pandemic levels.
Mass-market gaming revenue should be up to 55 percent of pre-pandemic levels by the end of the year, and 85 percent next year, according to Credit Suisse analysts.
Comments will be moderated. Keep comments relevant to the article. Remarks containing abusive and obscene language, personal attacks of any kind or promotion will be removed and the user banned. Final decision will be at the discretion of the Taipei Times.