Brazil, Argentina planning talks on regional currency
THE 'SUR': The plan, to be discussed at a summit this week, would focus on how a new currency could lift regional trade and reduce reliance on the US dollar
Brazil and Argentina aim for greater economic integration, including the development of a common currency, Brazilian President Luiz Inacio Lula da Silva and Argentine leader Alberto Fernandez said in a joint article they wrote.
"We intend to overcome the barriers to our exchanges, simplify and modernize the rules and encourage the use of local currencies," says the text published on the Argentine Web site Perfil.
"We also decided to advance discussions on a common South American currency that can be used for both financial and commercial flows, reducing costs operations and our external vulnerability," the article said.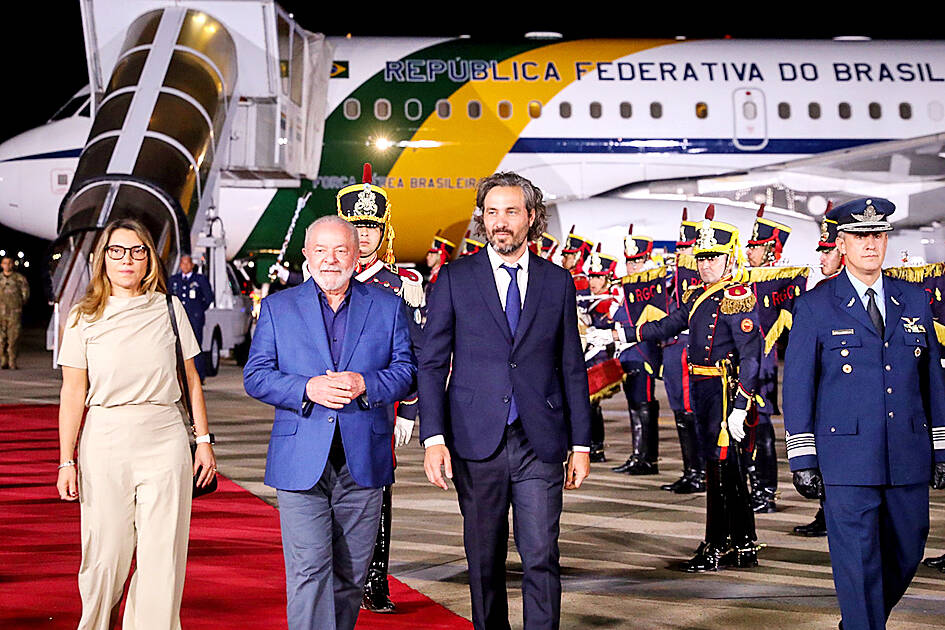 A handout photo from the Argentine Foreign Ministry shows Brazilian President Luiz Inacio Lula da Silva, second left, accompanied by his wife, Rosangela da Silva, left, upon their arrival at the Aeroparque Military Air Station, where they were received by Argentine Foreign Minister Santiago Cafiero, third left, in Buenos Aires on Sunday.
Photo: EPA-EFE
The idea of a common currency was raised originally in an article written last year by Fernando Haddad and Gabriel Galipolo, now Brazil's finance minister and his executive secretary, respectively, and was mentioned by Lula during the campaign.
Lula chose Argentina for his inaugural international trip since taking office, keeping with the tradition of first visiting Brazil's largest trading partner in the region. That follows four years of tense relations during the government of former Brazilian president Jair Bolsonaro.
Lula's trip to neighboring Argentina also marks the return of Brazil to the Community of Latin American and Caribbean States, which Brazil left in 2019 under order from Bolsonaro, who refused to participate in the regional group due to the presence of Cuba and Venezuela.
Both presidents emphasized the need for a good relationship between Argentina and Brazil to strengthen regional integration, according to the article.
The leaders also emphasized strengthening the Mercosur trade bloc, which includes Argentina, Brazil, Paraguay and Uruguay, and which Brazilian Finance Minister Haddad recently lamented has been abandoned in recent years.
"Together with our partners, we want Mercosur to constitute a platform for our effective integration into the world, through the joint negotiation of balanced trade agreements that respond to our strategic development objectives," both presidents said.
The Financial Times reported that the neighboring nations will announce this week they are starting preparatory work on a common currency.
The plan, set to be discussed at a summit in Buenos Aires this week, would focus on how a new currency, which Brazil suggests calling the "sur" (south), could boost regional trade and reduce reliance on the US dollar, the FT reported, citing officials.
Politicians from both countries have discussed the idea already in 2019, but met with pushback from Brazil's central bank at the time.
Initially starting as a bilateral project, the initiative would later be extended to invite other Latin American nations, the report said, adding an official announcement was expected during Lula's visit to Argentina that started on Sunday night.
Comments will be moderated. Keep comments relevant to the article. Remarks containing abusive and obscene language, personal attacks of any kind or promotion will be removed and the user banned. Final decision will be at the discretion of the Taipei Times.