Dutch government told to limit ASML exports to China
The Netherlands' defense ministry advised the government in 2020 not to allow semiconductor equipment supplier ASML Holding NV to export any of its most modern machines to China, Dutch newspaper Het Financieele Dagblad reported on Friday.
The FD obtained a slightly redacted version of the advice, which it has published on its Web site, via a Freedom of Information Act request.
"From the perspective of the Dutch military and security interests in the mid-to-long-term it is of importance ... that ASML not be granted any export permit for the delivery of EUV machines to China and that this unique technology be protected as much as possible," the advice addressed to the foreign ministry said.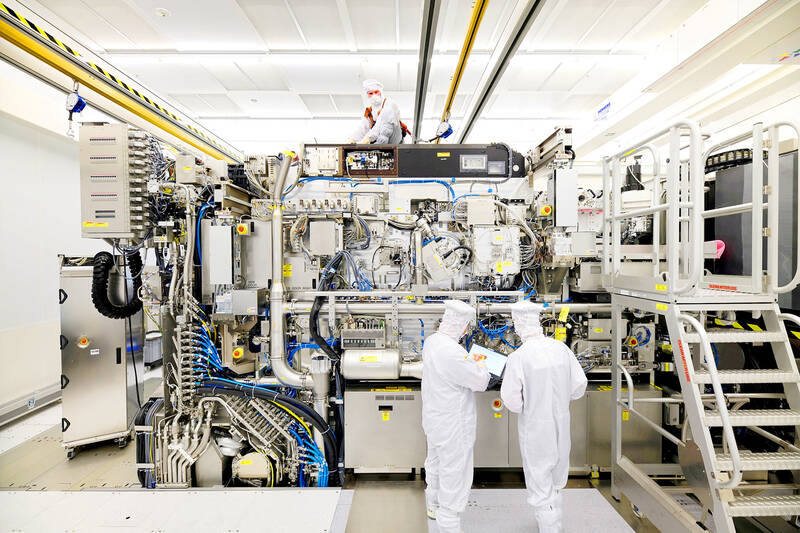 Employees work on the final assembly of ASML's TWINSCAN NXE:3400B semiconductor lithography tool with its panels removed in Veldhoven, the Netherlands, on April 4, 2019.
Photo: Bart van Overbeeke Fotografie/ASML/Handout via Reuters
EUV refers to ASML's flagship extreme ultraviolet lithography machines, which cost US$200 million each and are used by chipmakers to create the circuitry of computer chips.
The advice has been heeded, as ASML has not shipped EUV technology to Chinese customers.
The publication comes as the Dutch government weighs additional restrictions on ASML's exports of older equipment to China. Dutch Prime Minister Mark Rutte said on Tuesday that he expected a "good outcome" to discussions with the US on the matter after meeting with US President Joe Biden in Washington.
The letter also spelled out the potential risks of exporting the technology.
"The chance that a NATO member state in the future must defend itself against independently produced weapons systems would become much larger if EUV machines are exported," the advice said. "In addition, our most important strategic security partner, the United States, has made an urgent appeal to the Netherlands not to export the EUV technology to China."
ASML generates about 15 percent of its sales in China, an important growth market even after it was restricted from selling its most advanced machines there under US pressure in 2019.
The company declined to comment citing a quiet period ahead of earnings due on Jan. 25. ASML is expected to post fourth-quarter net income of 1.68 billion euros (US$1.82 billion) on record revenue of 6.37 billion euros, according to Refinitiv Eikon data.
In November last year, ASML raised its annual revenue estimates by 25 percent to at least 30 billion euros by 2025. The company's top customers including Taiwan Semiconductor Manufacturing Co (台積電), Samsung Electronics Co and Intel Corp, who are engaged in major expansions, so any loss of Chinese sales could initially be offset elsewhere. Still, the US restrictions are expected to impact 5 percent of ASML's 38 billion-euro order backlog.
There could be further losses from tougher Dutch rules, if for example, limits are reapplied to sales to China of older technology like deep ultraviolet lithography (DUV) equipment.
ASML has sold more than 8 billion euros worth of such equipment in China since 2014, when DUV was removed from international lists of goods deemed of possible military use.
Comments will be moderated. Keep comments relevant to the article. Remarks containing abusive and obscene language, personal attacks of any kind or promotion will be removed and the user banned. Final decision will be at the discretion of the Taipei Times.