LME error showed copper down 77% in its latest glitch
London Metal Exchange (LME) trading data on Friday briefly showed a 77 percent drop in the global benchmark price for copper after its system transmitted incorrect pricing, in the latest technical setback at the embattled exchange.
The error came at the close of trading in the LME's second open-outcry pricing session, which sets the global benchmark price for the physical metals industry. The mistake was a result of a data-entry error, a person familiar with the matter said.
While the final price in the trading ring was set at US$9,130 per tonne, the LME's external data feed showed a price of US$2,130 per tonne.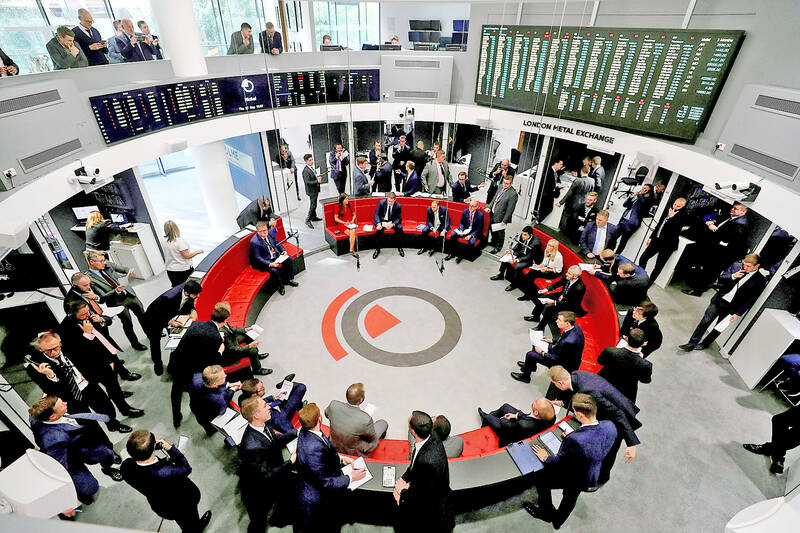 Traders work on the floor of the London Metal Exchange on Sept. 27, 2018.
Photo: Reuters
In a subsequent notice, the LME asked data vendors to update their pricing feeds accordingly, and apologized for any inconvenience caused.
The glitch had no follow-on effect on prices or trading and was quickly resolved by the LME.
The episode marks the latest in a string of technical setbacks at the exchange, including several complications that arose when it resumed trading in the wake of last year's historic nickel squeeze.
In the run-up to the crisis in March last year, its clearinghouse also generated a "high number" of erroneous margin calls that for some brokers totaled hundreds of millions of dollars.
At the start of last year, it also experienced a five-hour outage impacting its electronic trading platform, where about one-third of trading takes place. The remainder takes place in a telephone-based interoffice market, in addition to a small volume of trades in the "Ring."
The fallout from the nickel crisis raised questions about its future at the center of global metals markets.
Copper on the LME settled at US$9,187 per tonne, up 0.68 percent. In the US, copper for March delivery rose US$0.02 to US$4.22 per pound, rising 7.93 percent from last week's US$3.91 per pound.
In other commodities:
‧ Gold for February delivery rose US$22.90 to US$1,921.70 per ounce, gaining 2.78 percent from last week's US$1,869.70 per ounce.
‧ Silver for March delivery rose US$0.37 to US$24.37 per ounce, rising 1.62 percent from last week's US$23.98 per ounce.
Additional reporting by AP
Comments will be moderated. Keep comments relevant to the article. Remarks containing abusive and obscene language, personal attacks of any kind or promotion will be removed and the user banned. Final decision will be at the discretion of the Taipei Times.