European stocks clock 2nd consecutive week of gains
European shares on Friday closed near a nine-month high, supported by healthcare and banking stocks and upbeat economic data from the UK.
The pan-regional STOXX Europe 600 Index gained 0.52 percent to 452.54, outperforming their US peers after reporting season started with mixed bank earnings. The index closed its second consecutive week higher, with gains of 1.83 percent.
European banking stocks gained 0.8 percent.
UK's FTSE 100 added 0.64 percent to 7,844.07, after data showed the British economy eked out 0.1 percent growth in November, helped by a boost from World Cup drinkers and video game sales, reducing the chance that it has already slipped into recession. The index rose 1.88 percent from last week.
In Germany, data showed the economy likely stagnated in the final quarter of last year and grew by 1.9 percent over the whole year, suggesting that Europe's largest economy might just escape a recession over the winter. Germany's DAX closed 0.19 percent higher at 15,086.52, up 3.26 percent weekly.
European shares have made an upbeat start to the month and the new year, after data signaled a slowdown in inflation in the eurozone and the US, which could allow central banks to slow the pace of their monetary policy tightening.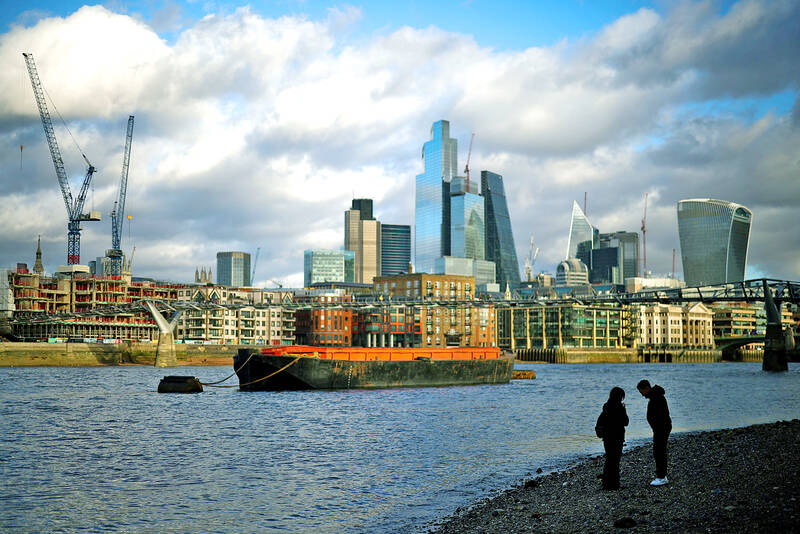 People stand on the bank of the River Thames with London's financial district in the background on Friday.
Photo: Reuters
"Some better GDP figures from the UK and Germany added to the cheerier atmosphere on Friday, and while equities might look a bit overextended in the short-term, they do seem poised for a better start to the year than many had feared," said Chris Beauchamp, chief market analyst at online trading platform IG.
Rate-sensitive tech and retail stocks have led gains so far this year, up 14 percent and 15 percent, respectively, after a rough last year, when fears of an economic slowdown and rising interest rates hammered these sectors.
On Friday, healthcare stocks provided the biggest boost to the index, with Novo Nordisk A/S and Roche Holding AG gaining 2.5 percent and 1 percent respectively.
Enel SpA edged up 0.4 percent after its CEO was quoted as saying the Italian power utility company could secure up to 5 billion euros (US$5.41 billion) for investment from REPower EU energy funds in addition to 3.5 billion euros in EU recovery funds already won.
Comments will be moderated. Keep comments relevant to the article. Remarks containing abusive and obscene language, personal attacks of any kind or promotion will be removed and the user banned. Final decision will be at the discretion of the Taipei Times.