Apple exports from India double, surpass US$2.5bn
GEOPOLITICAL TENSIONS: An analysis estimated that it would take about eight years to move just 10 percent of Apple Inc's production capacity from China to India
Apple Inc exported more than US$2.5 billion of iPhones from India from April to last month, nearly twice the previous fiscal year's total, underscoring how the US tech giant is accelerating a shift from China with geopolitical tensions on the rise.
Foxconn Technology Group (富士康科技集團), known as Hon Hai Precision Industry Co (鴻海精密) in Taiwan, and Wistron Corp (緯創) had each shipped more than US$1 billion of Apple's marquee devices abroad in the first nine months of the fiscal year ending in March, people familiar with the matter said.
Pegatron Corp (和碩), another major contract manufacturer for Apple, is on track to move about US$500 million of the gadgets overseas by the end of this month, the people said.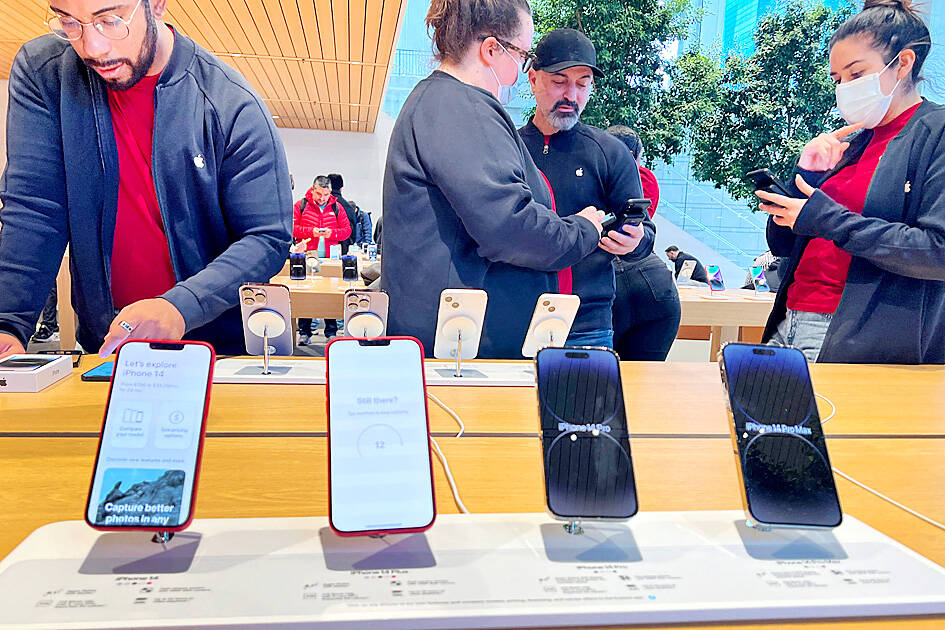 Apple iPhones are displayed at an Apple Store in Chicago, Illinois, on Nov. 28 last year.
Photo: AFP
Apple's rapidly growing export numbers illustrate how it is ramping up operations outside of China, where chaos at Foxconn's main plant in Zhengzhou exposed vulnerabilities in the Cupertino, California-headquartered company's supply chain and forced it to trim output estimates.
That compounded a broader problem with evaporating demand for electronics as consumers weigh the risks of a global recession.
Apple, the world's most valuable company, began assembling its latest iPhone models in India only last year, a significant break from its practice of reserving much of that for giant Chinese factories run by its main Taiwanese assemblers including Foxconn.
While India makes up just a fraction of iPhone output, rising exports bode well for Indian Prime Minister Narendra Modi's plan to make the nation an alternative to China as factory to the world.
Foxconn, Apple's largest supplier, began building facilities in India more than five years ago in anticipation of a need to extend its geographic range.
One selling point is a raft of new government incentives, a cornerstone of Modi's drive to make India an electronics manufacturing hub. Foxconn has won 3.6 billion rupees (US$43.7 million) of benefits in the first year of the so-called production-linked incentives scheme, while Wistron's claims are being processed, the people said.
Apple's contract manufacturers make iPhones at plants in southern India, but production in the nation is just beginning. About 3 million of the devices were made in India in 2021, compared with 230 million in China, according to Bloomberg Intelligence estimates.
Foxconn began making the iPhone 14 in India a few months ago — sooner than anticipated — after a surprisingly smooth production rollout that slashed the lag between Chinese and Indian output from months to weeks.
Apple's three Taiwanese partners assemble iPhones 11 to 14 in India, but moving out of China, where Apple has built a deep supply chain for close to two decades, is not easy. A Bloomberg Intelligence analysis estimated it would take about eight years to move just 10 percent of Apple's production capacity out of China, where about 98 percent of the company's iPhones are being made.
India tracks production and exports of all smartphone makers who enjoy financial incentives.
Beyond smartphones, the nation is drawing up plans to boost financial incentives for tablet and laptop makers, hoping to woo Apple to make everything from earphones to MacBooks locally.
Comments will be moderated. Keep comments relevant to the article. Remarks containing abusive and obscene language, personal attacks of any kind or promotion will be removed and the user banned. Final decision will be at the discretion of the Taipei Times.