Kyrgyzstan's coal miners dig on in hope of past glory
Suluktu 'heated Central Asia during Soviet times,' its mayor said, adding that he hopes that growing demand for coal could revitalize a town devastated by deindustrialization
Hundreds of meters underground, Emylbek Umarov hacked out lumps of coal by hand with a pickaxe in a dank mine in a remote mountainous corner of Kyrgyzstan.
Coal might be falling out of favor elsewhere because of climate change, but Suluktu's mines hope growing demand from neighboring Central Asian countries and beyond would help them return to their Soviet heyday.
For some, like Umarov, the mine is one of the few places offering work — despite the threat of accidents that have killed dozens of people in the area in the past few years.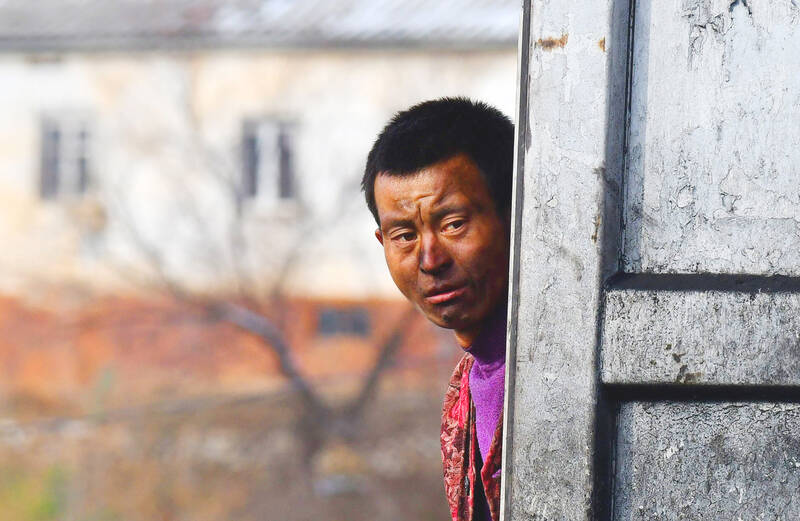 A worker looks on at a coal sorting facility in Suluktu, Kyrgyzstan, on Dec. 12.
Photo: AFP
"It's terrifying, it's tough, but there's no other work here," said the 27-year-old, who has two degrees in computing and economics.
As he spoke, the coughing of miners with blackened faces echoed through the tunnels illuminated by a few lamps hanging from a ceiling dripping with water.
The men work with jackhammers, pickaxes and explosives on 12-hour shifts day or night 15 days a month for a monthly salary of less than 150 euros (US$159).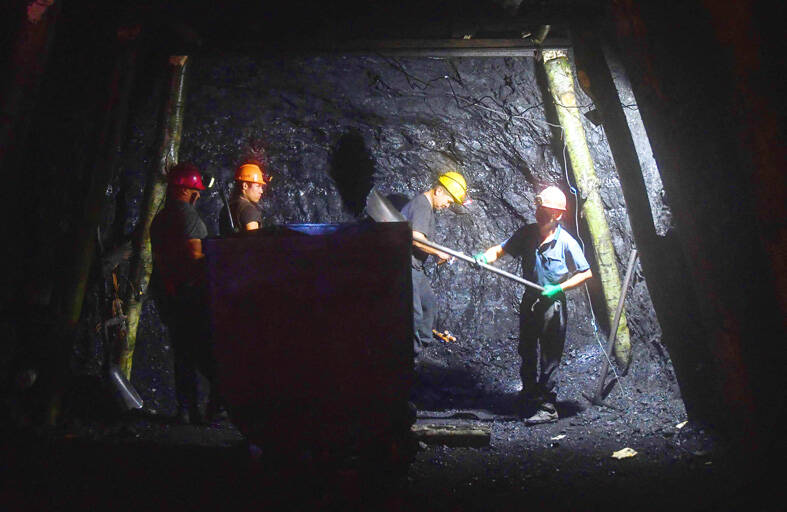 Coalminers load coal rocks into a mine cart at the Kara-Altyn Ken coal mine outside Suluktu, Kyrgyzstan, on Dec. 13.
Photo: AFP
Before starting their shifts, they have to travel an hour to the mine in large Russian-made Kamaz trucks along a badly rutted road.
The hulks of Soviet-era machinery could be seen in the pinkish dawn.
Tucked away in the mountains, the town of Suluktu was founded in 1868 and is one of the oldest coal extraction hubs in Central Asia.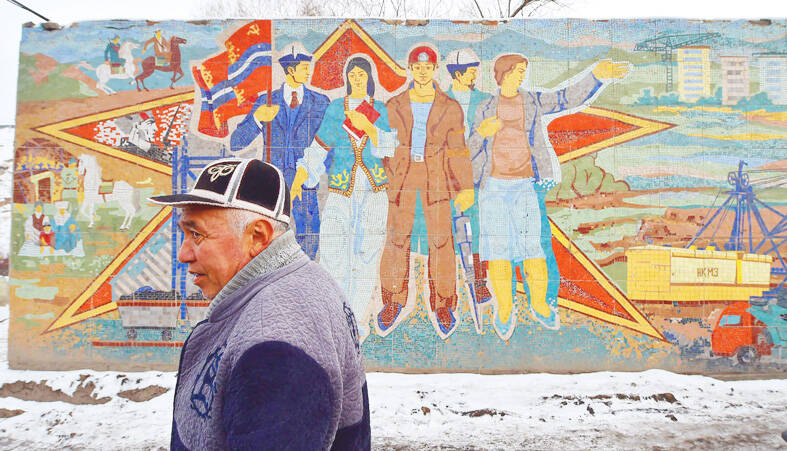 Nimadjan Abdulayevich, 64, walks past a Soviet mosaic in Suluktu, Kyrgyzstan, on Dec. 12.
Photo: AFP
From the "miner's bread" on sale in local bakeries to the local soccer team called "Shakhtar" (Miner) — everything in the town is a reminder of its main industry, including the coal dust coating the ground.
The town "heated Central Asia during Soviet times," Suluktu Mayor Maksat Kadyrkulov said.
Like settlements across the former Soviet Union, it suffered from deindustrialization after its collapse, leading to a sharp drop in population and coal output.
"There is no farmland here. We just dig coal and there is no family without a miner," Kadyrkulov said.
The mayor said he hoped Suluktu would recover its "past glory" thanks to growing demand for coal.
The Soviet era is a constant presence in the town.
On its outskirts stands a monument depicting two miners with a 4m-high hammer and sickle.
Trucks filled with coal file past the statues on their way to deliver their cargo to Uzbekistan and beyond since access to nearby Tajikistan is now closed off because of a flare-up of tensions along the border.
A mosaic nearby extols the glory of Soviet power, showing a miner with a red star behind him.
Before "we were proud to be miners," said 64-year-old Nimadjan Abdulayevich, who spent 37 years in the mines, his voice hoarse from throat cancer.
While there have been no fatal accidents in the mine where Umarov works, the risk is constant.
"The mine is like a second front. You risk dying there," is a phrase that miners often repeat.
Last year, the metal bars holding up the vein where Umarov was working collapsed, breaking his leg.
"Since then, the fear remains," he said.
His father Dzhumbai, who now works on the surface as a welder, was caught up in a similar accident.
Mine director Kanynbek Ismailov said he lacked the resources for new equipment, even though the conditions in the mine are among the best of the 40 or so in Suluktu.
"We do everything by hand. We do not have new equipment," Ismailov said.
Comments will be moderated. Keep comments relevant to the article. Remarks containing abusive and obscene language, personal attacks of any kind or promotion will be removed and the user banned. Final decision will be at the discretion of the Taipei Times.