E Ink expects more growth next year
'WIDE ADOPTION': The company's electronic label business is expected to post it fastest growth next year on the back of orders from Best Buy and Amazon.com
E Ink Holdings Inc (元太科技), the world's sole e-paper display supplier, yesterday said it expects to continue to grow its business next year as large-scale retailers in the US are joining their European counterparts to install electronic shelf labels (ESLs) as a labor shortage drags on.
Walmart Inc earlier this year announced a plan to adopt ESLs after nearly eight years of evaluations, while Best Buy Co and Home Depot Inc also adopted the cost-efficient electronic labels, following in the footsteps of Carrefour SA and Tesco PLC in Europe.
"We believe E Ink will grow next year, despite the global economy facing rising recession risks... The [revenue] growth might not be as dramatic as this year's," E Ink chairman Johnson Lee (李政昊) told a media gathering in Taipei yesterday.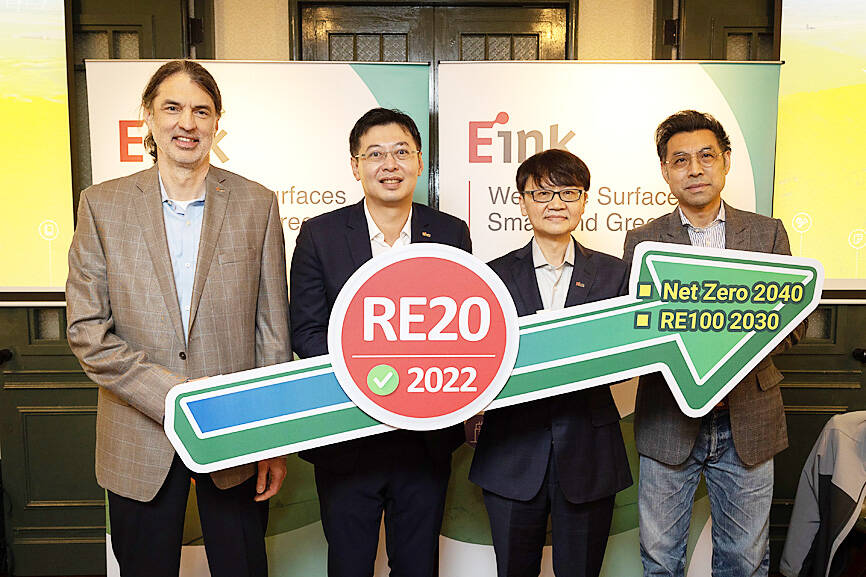 From left, E Ink Corp chief business and operations officer Paul Apen, E Ink Holdings Inc chairman Johnson Lee, president F.Y. Gan and chief financial officer Lloyd Chen pose for a photograph at a media gathering in Taipei yesterday.
Photo courtesy of E Ink Holdings Inc
If the global economy enters a recession next year, retailers might hesitate about spending on ESLs, the company said.
E Ink's revenue soared 67 percent year-on-year in the first three quarters of this year to NT$21.52 billion (US$701.3 million), the company's highest revenue for the period.
More than half of the company's revenue came from the ESL segment, the first time the business became the firm's major source of income, E Ink said.
The company's ESL business is expected to post its fastest growth next year, as large-scale retailers, including Best Buy and Amazon.com Inc are to install the devices, E Ink said.
"We are seeing that more retailers are willing to introduce ESLs extensively," Lee said. "This year, we are benefiting from wide adoption of ESLs from some European retailers. We have been endeavoring to ship goods there."
About 600 million ESLs were installed from 2012 to last year, accounting for about 10 percent of the overall market of 6 billion shelf labels, Lee said.
As long as the penetration rate continues to rise, there would be growth opportunities for the company, he said.
There is also replacement demand, Lee said, adding that the lifecycle of an electronic label is seven to eight years.
E-paper displays used in e-notes would be the company's second growth engine next year, as the world's top 10 tablet vendors, except Apple Inc and Samsung Electronics Co, have rolled out e-notes, Lee said.
E Ink president F.Y. Gan (甘豐源) said electronic labels used on packing boxes would be the next market with strong growth potential.
Each year, about 10 billion boxes are consumed worldwide, which is a huge number, Lee said.
Like ESLs, Europe would be the first adopter of electronic labels for packing boxes, as the EU stipulates that all such containers must be made reusable by 2030, he said.
Electronic labels can be used to track the usage of such boxes, he added.
Comments will be moderated. Keep comments relevant to the article. Remarks containing abusive and obscene language, personal attacks of any kind or promotion will be removed and the user banned. Final decision will be at the discretion of the Taipei Times.