Local TSMC suppliers divided over US move
Local suppliers of Taiwan Semiconductor Manufacturing Co (TSMC, 台積電) appear to be divided over whether they should follow the chipmaker and also set up production facilities in the US, after TSMC announced that it would increase its investment in Arizona.
While some TSMC suppliers, including clean-room design service provider United Integrated Services Co (漢唐集成), have set up plants in the US, others, such as IC testing and analysis provider Materials Analysis Technology Inc (閎康科技), have hesitated to make the move because of high production costs in the US.
TSMC on Tuesday announced that it would increase its planned US$12 billion investment in Arizona to US$40 billion to build a 3-nanometer fab, scheduled to begin operations in 2026, near its 4-nanometer fab, which is scheduled to start production in 2024.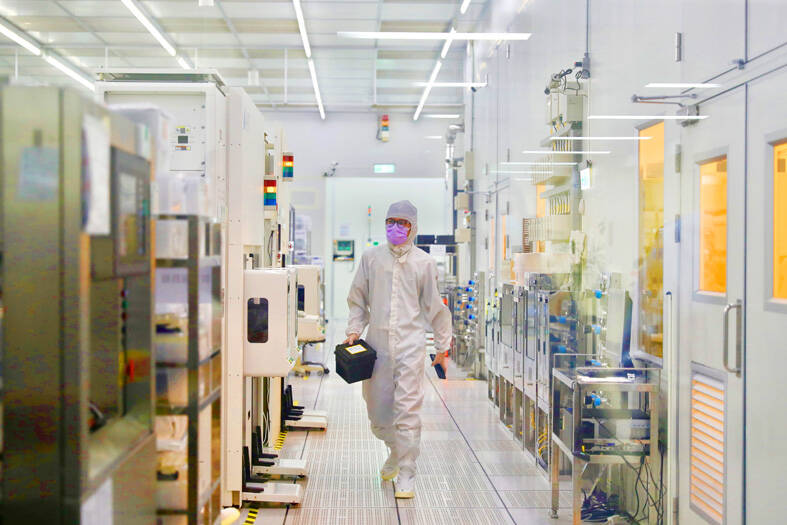 An engineer walks inside a laboratory of the Taiwan Semiconductor Research Institute in Hsinchu County on Sept. 16.
Photo: Ritchie B. Tongo, EPA-EFE
Many TSMC suppliers had committed to following their biggest customer to the US well before the chipmaker announced its additional investment.
United Integrated Services said it has set up a subsidiary — United Integrated Services (USA) — to serve TSMC, to which it has provided integrated engineering system services since 1994.
The company said it provides services to TSMC facilities in the Hsinchu Science Park (新竹科學園區), the Central Taiwan Science Park (中部科學園區) and the Southern Taiwan Science Park (南部科學園區), and has been awarded as one of the chipmaker's best suppliers.
Facility engineering turnkey project provider Marketech International Corp (帆宣) said it opened Marketech International Corp USA long before TSMC in May 2020 announced its plan to build an advanced semiconductor fab in Arizona.
It has doubled its team in the US to more than 100 specialists because of the TSMC move, Marketech said, adding that it is already profiting from the US expansion.
Its US subsidiary posted a profit of about NT$250 million (US$8.15 million) in the first nine months of this year, after securing orders from TSMC for work on its first Arizona fab, sharply up from a profit of NT$3.4 million for the whole of last year, Marketech said.
Mass flow controller and purifier supplier Taiwan Puritic Corp (和淞科技) said that although it only has paid-in capital of NT$600 million and sales of less than NT$10 billion a year, it still decided to follow TSMC to the US.
Taiwan Puritic in March last year set up a US subsidiary — Propersys Corp — after TSMC announced its Arizona investment plan.
Other suppliers have been more cautious.
Materials Analysis said the higher cost structure in the US is a major factor in its reluctance to set up a facility there.
It is unsure whether it would find workers with the needed skills in the US, it added.
Taiwan Speciality Chemicals Corp (台特化) has also been hesitant to invest in the US.
The company said it needed to see the economies of scale in the US market grow to a certain level before it might start production there, adding that it opened a warehouse in the US to handle and distribute its products made in Taiwan.
Comments will be moderated. Keep comments relevant to the article. Remarks containing abusive and obscene language, personal attacks of any kind or promotion will be removed and the user banned. Final decision will be at the discretion of the Taipei Times.