European chamber urges government to build resilience, bolster global ties
The European Chamber of Commerce in Taiwan (ECCT) yesterday called on the government to seize the opportunity to ensure Taiwan's continued success.
Taiwan has evolved as a beneficiary of an export-driven economy on the back of its contract manufacturing model and should step up its economic resilience and strength by partnering with foreign companies and countries, the chamber said when it released its annual position paper.
"Actions will be needed to speed up Taiwan's energy transformation, attract and retain talent, enhance the conditions for developing innovative technologies and pursue further internationalization," the paper said.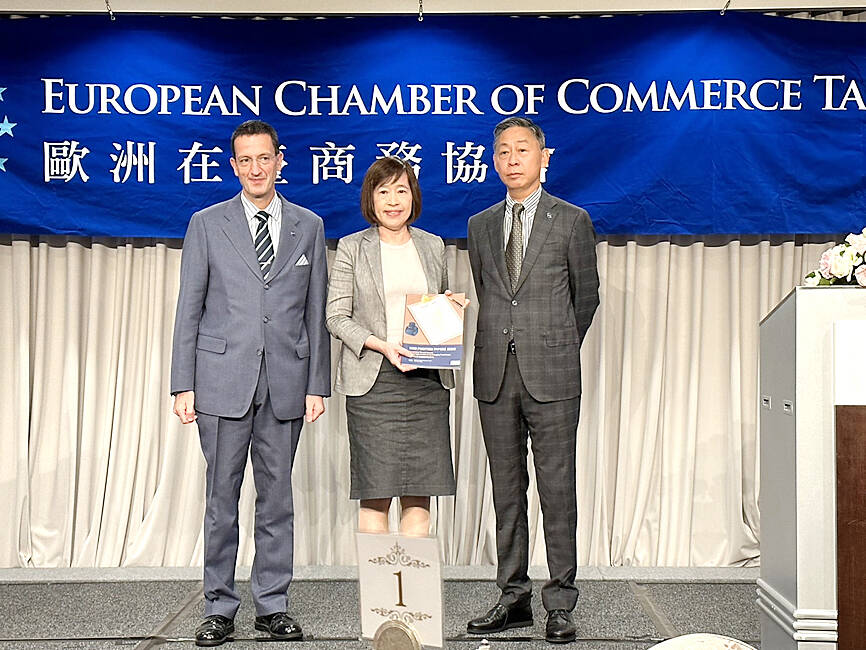 The European Chamber of Commerce Taiwan Chairman Henry Chang, right, hands a copy of its 2023 Position Papers to the National Development Council Deputy Minister Kao Shien-quey, center, in Taipei yesterday.
Photo: CNA
Countries and companies that are able to adapt to the changing needs of their trading partners and clients are best placed to thrive in the changing order, it said.
Taiwan's effort to diversify investments and trade has had results, but more could be done in seeking stronger partnerships with like-minded countries, such as those in Europe, it said.
ECCT members welcome the government's commitment and preliminary road map to achieve net zero emissions by 2050, but found that policymakers have fallen far behind their timetable goals.
For Taiwan to remain an attractive investment destination, the deployment of sufficient green energy is of utmost importance, it said, adding that the reduction of onshore wind and geothermal energy targets runs counter to the government's objectives.
The rigid insistence on local content requirements and the lack of action to reduce red tape in administrative processes pose obstacles to renewable energy development, it said.
The chamber suggested the government develop all forms of renewable energy to the maximum extent possible, remove the cap on offshore wind energy auction prices, adopt a market-driven capital investment approach and streamline the permitting process for wind energy projects.
The government can help spur the sales of electric vehicles by modifying incentive schemes and tax policies, and revising land and building regulations to allow charging stations to be built in rural and urban areas, it said.
Taiwan's labor laws fail to reflect the complexities of modern workplaces and remote working, the chamber said, adding that regulatory easing could help facilitate hybrid working.
Taiwan should consider providing subsidies or tax incentives for enterprises to provide childcare spaces and facilities, as the economic and social costs of raising children have increased, it said.
ECCT found the qualifications for the gold card scheme overly strict and called for relaxations to attract greater and more diverse foreign talent from Europe, the US and elsewhere in Asia, it said.
Comments will be moderated. Keep comments relevant to the article. Remarks containing abusive and obscene language, personal attacks of any kind or promotion will be removed and the user banned. Final decision will be at the discretion of the Taipei Times.