Rate hikes push borrowing costs
Interest rates on new loans at the nation's five major state-run banks rose 9 basis points to an average of 1.541 percent last month, after local lenders raised borrowing costs on almost all types of loans to reflect the central bank's interest rate hikes, the central bank said yesterday.
The central bank on Sept. 22 increased its policy rate by 0.125 percentage points to tame inflation, prompting the Bank of Taiwan (臺灣銀行), Land Bank of Taiwan (土地銀行), Taiwan Cooperative Bank (合作金庫銀行), Hua Nan Commercial Bank (華南銀行) and First Commercial Bank (第一銀行) to increase interest rates on mortgages, consumer loans and capital expenditure loans.
Private lenders generally took cues from their state-run peers and set interest rates with extra risk premiums.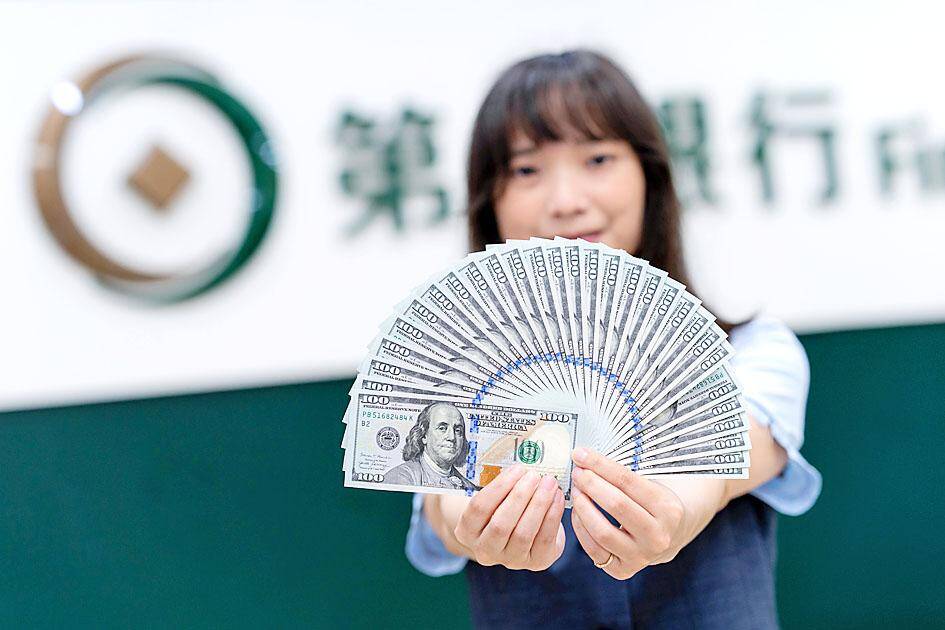 A bank clerk holds up US$100 banknotes at a branch of the First Commercial Bank in Taipei in an undated photograph.
Photo: Chen Mei-ying, Taipei Times
Interest rates on new mortgages climbed to 1.827 percent, the highest in six-and-a-half years, and new mortgages fell to NT$47.27 billion (US$1.51 billion), the lowest since February, the central bank told a news conference in Taipei.
The decline in mortgages indicated that prospective buyers had turned cautious amid economic uncertainty, the central bank said, adding that the negative wealth effect due to stock price corrections helped dampen buying interest.
The decline correlated with a monthly fall of 6.87 percent in property transactions last month, even though September is traditionally a peak month for such deals, the central bank said.
Sinyi Realty Inc (信義房屋), Taiwan's only listed broker, said that the cooling market would give the central bank a reason to refrain from introducing unfavorable measures at its next board meeting next month.
However, several central bank directors last quarter expressed concerns over house price hikes and pushed for stronger monetary tightening, the minutes of the bank's previous meeting showed.
Interest rates on capital expenditure loans were 1.997 percent on average, shedding 2.6 basis points from one month earlier, but new loans rose by NT$8.13 billion to NT$75.28 billion, driven mainly by companies in the transportation sector, the central bank said.
Interest rates on working capital loans picked up 8.9 basis points to 1.479 percent, but overall loans fell by NT$121.35 billion to NT$873.91 billion, the central bank said, adding that companies usually have less demand for working capital at the beginning of a quarter.
Interest rates on consumer loans increased 8.3 basis points to 2.792 percent, with lending rising by NT$233 million to NT$5.22 billion, the central bank said.
Comments will be moderated. Keep comments relevant to the article. Remarks containing abusive and obscene language, personal attacks of any kind or promotion will be removed and the user banned. Final decision will be at the discretion of the Taipei Times.