Fed can downshift from 75 basis-point rate hikes, Cleveland head Mester says
Two US Federal Reserve officials reinforced expectations the central bank would slow their pace of interest rate increases next month, even as they stressed the need to keep tightening.
San Francisco Fed President Mary Daly and Cleveland Fed President Loretta Mester said during separate remarks on Monday that inflation remains too high and policymakers have a way to go before completing their tightening campaign.
However, they both characterized the need for officials to be judicious as they calibrate policy.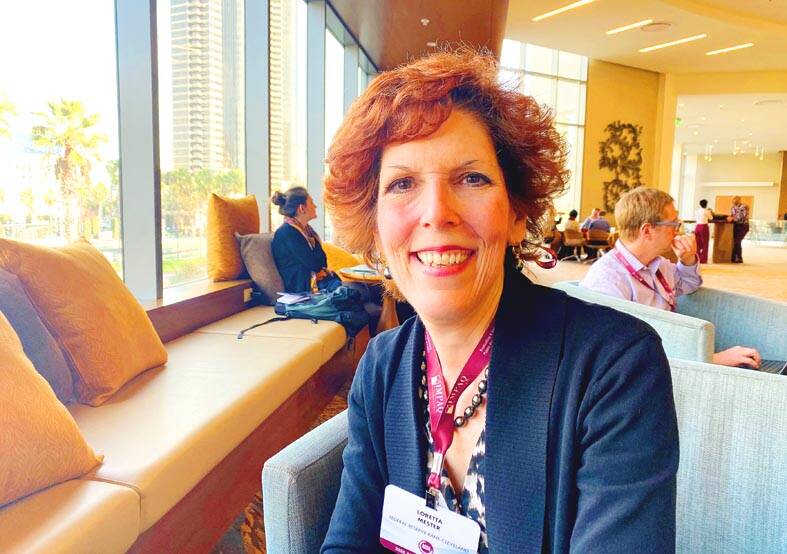 Cleveland Federal Reserve President Loretta Mester poses during an interview in San Diego, California, on Jan. 3, 2020.
Photo: Reuters
"I think we can slow down from the 75 at the next meeting, I don't have a problem with that," Mester said during an interview with CNBC television, adding that policy was entering a new "cadence" now that rates have just entered restrictive territory, where they weigh on the economy.
The US central bank lifted interest rates by 75 basis points for the fourth straight time this month, bringing the target on its benchmark rate to a range of 3.75 percent to 4 percent.
Several Fed officials have signaled they might consider a 50 basis-point increase at their meeting next month, with the final decision depending on what happens with the US economy.
Investors expect the Fed to raise rates by a half-point at the Dec. 13-14 meeting and for the benchmark rate to peak at about 5 percent next year, according to pricing of contracts in futures markets.
Mester said she does not think market expectations are "really off," adding that more interest rate increases are needed to bring rates deeper into restrictive territory.
"I don't think we're anywhere near to stopping," Mester said. "We're still going to have more work to do, because we need to see inflation really on a sustainable downward path back to 2 percent."
Speaking earlier in the day, Daly said that officials would need to be mindful of the lags with which monetary policy works, while repeating that she sees interest rates rising to at least 5 percent.
"As we work to bring policy to a sufficiently restrictive stance — the level required to bring inflation down and restore price stability — we will need to be mindful," she told the Orange County Business Council in Irvine, California. "Adjusting too little will leave inflation too high. Adjusting too much could lead to an unnecessarily painful downturn."
"I tend to be on the more hawkish side of the distribution, if you will, as I think about what needs to be done here and where the risks lie," she told reporters on a telephone conference call after the speech.
"Five percent to me is a good starting point," she said, adding that it could go high if needed.
Fed officials in September projected rates of about 4.4 percent by the end of this year and 4.6 percent next year, according to their median forecast.
They update the quarterly estimates next month.
Comments will be moderated. Keep comments relevant to the article. Remarks containing abusive and obscene language, personal attacks of any kind or promotion will be removed and the user banned. Final decision will be at the discretion of the Taipei Times.