TSMC starts construction of new fab in Kaohsiung
PRIORITY SHIFT: TSMC previously said it would build two new fabs in Kaohsiung, but earlier this month said it was postponing construction of a 7-nanometer factory
Taiwan Semiconductor Manufacturing Co (TSMC, 台積電) yesterday said that construction of a factory in Kaohsiung to produce 28-nanometer chips is under way, with mass production set to start in 2024.
TSMC, the world's largest contract chipmaker, made the announcement after reports about the company's capacity expansion plans in Kaohsiung.
Industry insiders said that TSMC on Friday awarded the contract to build the new fab to Fu Tsu Construction Co (互助營造).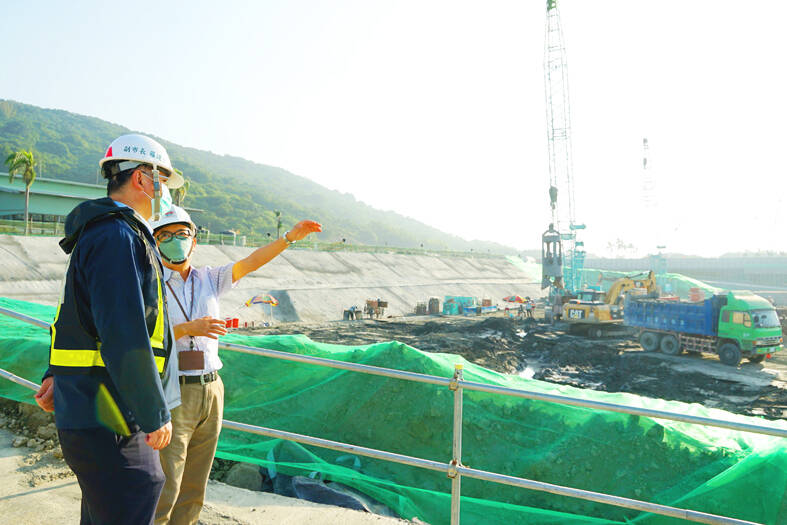 Taiwan Semiconductor Manufacturing Co senior manager of new fab design M.L. Lee, right, talks to Deputy Kaohsiung Mayor Lo Ta-sheng during a visit to a construction site in the city's Nanzih Technology Industrial Park on Monday last week.
Photo courtesy of Kaohsiung Economic Development Bureau
The chipmaker, a major Apple Inc supplier, did not directly respond to the reports, saying only that construction had started following the completion of land grading.
TSMC previously said it intended to build a 7-nanometer and a 28-nanometer fab in Kaohsiung's new Nanzih Technology Industrial Park (楠梓科技產業園區).
However, the chipmaker earlier this month said it was postponing construction of the 7-nanometer fab in response to weak demand, but said it would still build the 28-nanometer factory.
Starting in the fourth quarter of this year, the capacity utilization of 7-nanometer and 6-nanometer chips would not be as high as over the past three years, TSMC chief executive officer C.C. Wei (魏哲家) told an investors' conference on Oct. 13.
At the conference, the chipmaker also said it would cut its capital expenditure budget for this year to US$36 billion from its previous estimate of US$40 billion to US$44 billion.
Nanzih Technology Industrial Park is on the site of the former Kaohsiung Refinery (高雄煉油廠) operated by state-owned oil refiner CPC Corp, Taiwan (台灣中油).
TSMC also declined to comment on media reports that it would replace Samsung Electronics Co as the manufacturer of next-generation assisted driving chips for Tesla Inc, the world's leading electric vehicle maker.
Shares in TSMC fell 1.03 percent to close at NT$482 yesterday, as some investors sought to cash in their holdings after recent gains.
Its share price soared 10.31 percent last week on news that Berkshire Hathaway Inc had bought more than US$4.1 billion in TSMC's American depositary receipts as of the end of September.
That came after a 15.6 percent rise in the stock from Nov. 7 to Nov. 11.
Warren Buffett's conglomerate has not commented publicly on the deal, but market watchers attribute the purchase to TSMC's cheap valuations, technology leadership and solid fundamentals.
"TSMC fell victim to today's selling as the stock was moving closer to the nearest level of technical resistance at NT$500 after a recent rally," Concord Securities Co (康和證券) analyst Kerry Huang (黃志祺) said. "But I have to say that TSMC's long term prospects remain sound despite short-term market uncertainty."
Comments will be moderated. Keep comments relevant to the article. Remarks containing abusive and obscene language, personal attacks of any kind or promotion will be removed and the user banned. Final decision will be at the discretion of the Taipei Times.