Chip boom 'does not harm' other sectors
Taiwan does not have the "Dutch disease," Minister of Finance Su Jain-rong (蘇建榮) said yesterday, referring to an overreliance on a temporarily surging sector at the cost of other industries.
The government supports a variety of sectors, not just the semiconductor industry, whose development "does not harm other sectors," he said.
Su's comments came after opposition lawmakers said that Taiwan has become overly reliant on a few tech firms, while non-tech manufacturing sectors are declining.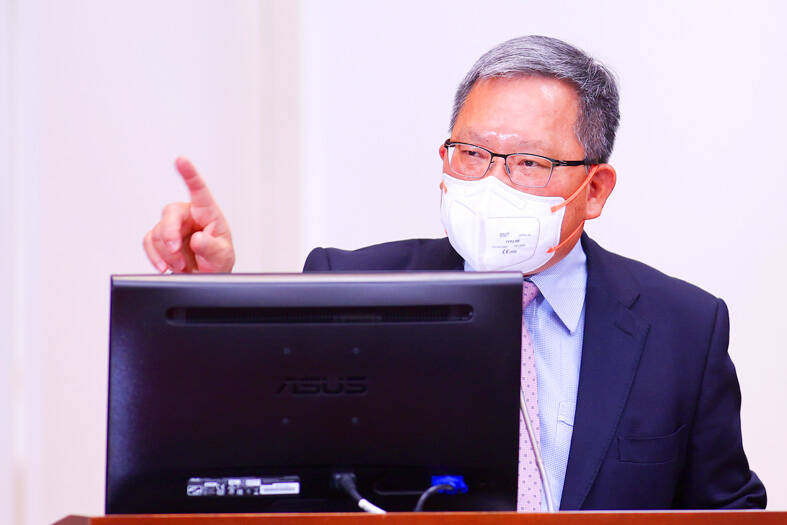 Minister of Finance Su Jain-rong speaks at a meeting of the legislature's Finance Committee in Taipei yesterday.
Photo: CNA
The term "Dutch disease" was coined in 1977 by The Economist to describe the decline of the Dutch manufacturing sector after the discovery of the large Groningen natural gas field in 1959.
The Netherlands posted annual trade surpluses from 1970 to 1980 on the back of natural gas exports, which drove up the country's currency and led to manufacturers becoming less competitive internationally, with many eventually moving their production abroad.
Lawmakers said the local economy is comparable to the Netherlands at the time.
Taiwan's "small and open" economy is taking a similar development as the European country, with increasing reliance on chip exports, and profitability and wages in the chip sector and other industries increasingly diverging, they said.
Su dismissed the comparison, saying the government has sought to promote the "five plus two" industries by developing Taiwan into a regional technology hub, shoring up local firms that supply smart machinery, and developing green energy sources, biomedicine and national defense.
President Tsai Ing-wen (蔡英文) is seeking to establish a new agricultural model and a circular economy, Su said.
Local semiconductor firms command global leadership positions, but small and medium-sized firms in other sectors also contribute significantly to GDP growth and employ many people, he said.
The central bank has said that Taiwan's non-tech manufacturers, such as suppliers of plastic and chemical products, remain competitive, although they generate less added value than local tech firms.
Local makers of steel products, bicycles and vehicle parts have gained significant global market shares, the central bank said.
However, non-tech manufacturers lag behind tech firms in terms of wages, but that is due to supply and demand in the job market, rather than resource distribution or currency movements, it said.
Local electronics suppliers have benefitted from a work-from-home boom during the COVID-19 pandemic and global supply chains moving away from China, the central bank said.
Comments will be moderated. Keep comments relevant to the article. Remarks containing abusive and obscene language, personal attacks of any kind or promotion will be removed and the user banned. Final decision will be at the discretion of the Taipei Times.