Cathay United Bank ending Costco card partnership in Taiwan
FUBON TAKES OVER: Cathay United did not try to top Taipei Fubon's offer, as Costco is not opening new outlets, limiting profits on the credit card venture, analysts said
Cathay United Bank (國泰世華銀行) yesterday said its co-branded credit card partnership with Costco Wholesale Taiwan Ltd (台灣好市多) is to end on Aug. 7 next year, affecting 2.7 million card holders.
Once the partnership expires, co-branded credit card holders will no longer be able to use them to make purchases at Taiwan's 14 members-only Costco outlets.
Chinese-language media reported that Taipei Fubon Commercial Bank (台北富邦銀行) recently acquired the exclusive partnership by paying NT$1.2 billion (US$37.4 million) in royalty fees — NT$200 million more than Cathay United paid in 2013 to replace Costco's preceding partner, CTBC Bank (中信銀行).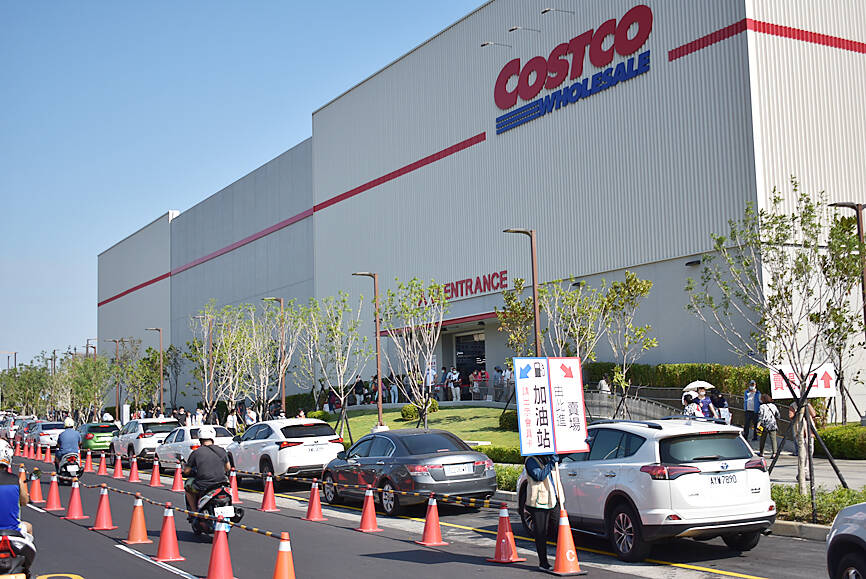 Vehicles wait to enter a Costco outlet in Taichung on Nov. 20, 2020.
Photo: Chang Jui-chen, Taipei Times
During the decade-long alliance, Cathay United Bank grew the number of co-branded credit card holders threefold, from 900,000 in 2014 to 2.7 million today, the lender said.
Costco is touted as the most popular warehouse club in Taiwan. It only accepts the co-branded credit card for cashless purchases.
The US retailer said in a statement yesterday that it is weighing its options regarding a new co-branded credit card partner.
Members' interests are its primary concern, Costco added.
Taipei Fubon Bank had not commented as of publication time last night.
As of September, CTBC Bank remains the largest credit card issuer in Taiwan with 8.32 million cards, followed by Cathay United Bank's 7.89 million, government data showed.
By measure of active credit cards — defined as having been used in the past six months — Cathay United Bank places first with 5.57 million, more than CTBC Bank's 5.18 million, the data showed.
Taipei Fubon Bank ranks fifth in terms of active cards at 4.57 million, and could seize the No. 1 spot if it partners with Costco, as that would boost its number of active credit cards to 5.64 million, analysts said.
Cathay United Bank, the banking arm of Cathay Financial Holding Co (國泰金控), did not try to top Taipei Fubon Bank's offer, because it was concerned that business expansion would be limited unless Costco Taiwan adds new outlets, analysts said.
Issuing credit cards also generates little profit after factoring in bonuses, discounts, credit and other costs, analysts said.
By contrast, Taipei Fubon Bank, the banking arm of Fubon Financial Holding Co (富邦金控), has ample ability to use creative methods to generate business given its affiliation with e-commerce operator Momo.com Inc (富邦媒體) and telecom operator Taiwan Mobile Co (台灣大哥大), analysts said.
Upon the termination of the alliance, Cathay United Bank is encouraging clients to switch to its upcoming CUBE credit cards, which are to have similar cash rebates as their cobranded cards, as well as other benefits.
The bank said it would disclose the details of the CUBE program soon.
Comments will be moderated. Keep comments relevant to the article. Remarks containing abusive and obscene language, personal attacks of any kind or promotion will be removed and the user banned. Final decision will be at the discretion of the Taipei Times.