Presale, new home launches surge in Q3: survey
STALEMATE? Sales rates slid as developers and builders were less willing to give concessions on prices, while prospective buyers turned cautious, the survey showed
Developers and builders last quarter launched NT$458.6 billion (US$14.24 billlion) in presale and new housing projects at record-high prices across the nation while sales rates slowed, a survey by Cathay Real Estate Development Co (國泰建設) found yesterday.
That represented an increase of 57.7 percent from the second quarter when builders postponed product launches amid concern over spiking COVID-19 infections.
Compared with a year earlier, the figure rose 35.2 percent, the quarterly survey showed.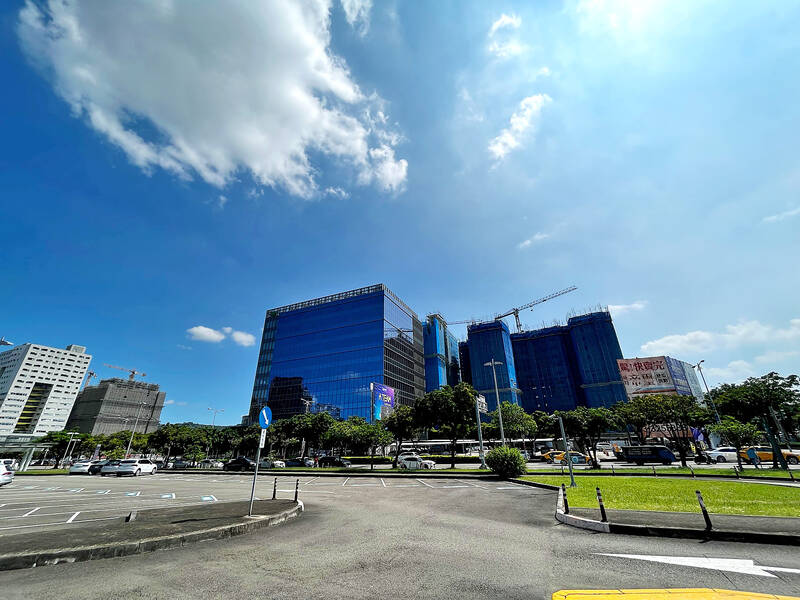 Buildings under construction are pictured in Hsinchu County's Jhubei City on Sept. 27.
Photo: Hsu Yi-ping, Taipei Times
Asking prices gained 2.99 percent on average to NT$472,300 per ping (3.3m2) nationwide, propelled by higher land, labor and building material costs, the survey showed.
Whether the uptrend is sustainable is a question, as people turn increasingly conservative amid high inflation, monetary tightening and other economic uncertainty.
The price tags are much higher in Taipei at NT$1.04 million per ping and at NT$529,200 per ping in New Taipei City, the survey showed.
Asking prices reached NT$496,600 per ping in Hsinchu County and Hsinchu City, rising 21.25 percent to become the third-most expensive in Taiwan, it said.
Presale and new housing prices grew 4.2 percent to NT$439,900 per ping in Taichung, 16.33 percent to NT$331,100 in Tainan and 6.52 percent to NT$325,000 in Kaohsiung.
In addition, developers and builders grew less flexible about price concessions, which dropped by 0.81 percentage points to 8.12 percent, the survey showed, with the room for bargaining smallest in Hsinchu at 5.44 percent and largest in Taoyuan at 9.49 percent.
The firm attitude reflected confidence on the part of sellers, which slowed transactions, with the average 30-day sales rate weakening 2.44 percentage points to 11.6 percent, the survey said.
Taoyuan had the lowest 30-day sales rate of 9.21 percent, although it improved 0.92 percent from three months earlier, it said.
The sales rate was highest in Hsinchu at 15.63 percent, despite a sharp decline of 13.97 percentage points from the preceding quarter.
Sales rates tumbled 8.53 percentage points to 13.56 percent in Tainan, but gained 1.84 percentage points to 12.09 percent in Kaohsiung.
The figures reflected a cautious attitude among prospective buyers, and the property boom fueled by local technology firms' investment plans might have plateaued, it said.
In the first three quarters of the year, the market for presale and new housing projects put up a stronger performance compared with the same period last year, it said.
By contrast, the market for existing homes fared weaker, as transactions in the first nine months slipped into negative territory.
Comments will be moderated. Keep comments relevant to the article. Remarks containing abusive and obscene language, personal attacks of any kind or promotion will be removed and the user banned. Final decision will be at the discretion of the Taipei Times.