US chip ban to hurt TSMC, Korean plants in China
The US government's decision to impose new restrictions on the sale of semiconductors and chipmaking equipment to Chinese companies could hurt Taiwan Semiconductor Manufacturing Co (TSMC, 台積電), along with the Chinese foundries of South Korean chipmakers, information advisory firm TrendForce Corp (集邦科技) said in a statement on Saturday.
The measures announced by the US on Friday include a ban on advanced computing chips, including those used in artificial intelligence and high-performance computing, from being sold to China without a license. Production equipment is included in the ban.
That likely means Taiwan would be prohibited from selling semiconductor manufacturing equipment and advanced chips to Chinese companies, while sales to foreign companies operating in China would be reviewed on an individual basis.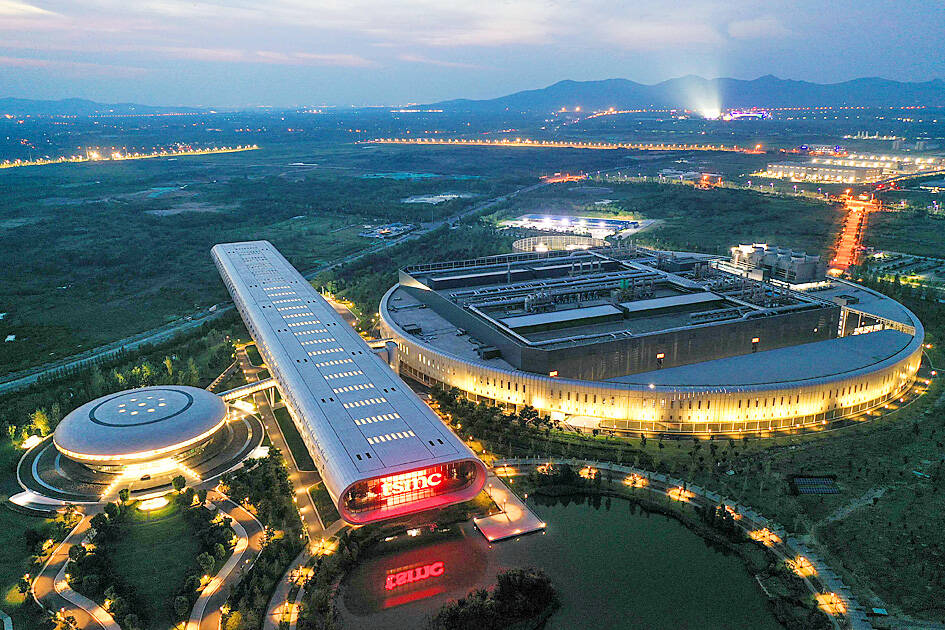 A Taiwan Semiconductor Manufacturing Company factory in Nanjing is pictured on Aug. 10.
Photo: AFP
The measures extend restrictions from standard semiconductors to memorychips, which could hurt Chinese and South Korean suppliers, TrendForce Center for Research Operations CEO Locke Chang (張小彪) said.
The companies making chips in China that could be most affected are Chinese chipmakers Yangtze Memory Technology Corp (YMTC, 長江存儲) and ChangXin Memory Technologies Inc (CXMT, 合肥長鑫存儲), and South Korean chipmakers SK Hynix Inc and Samsung Electronics Co, Chang said.
Semiconductor Manufacturing International Corp (SMIC, 中芯國際), China's largest chipmaker, could see next year's sales grow 50 percent slower than forecast, as the latest export curbs hamper its capacity buildup, Bloomberg Intelligence analyst Charles Shum said in a note yesterday.
About 48 percent of SMIC capacity to be installed by next year requires gear from US tool makers such as Lam Research Corp and Applied Materials Inc, he said.
Because the restrictions cover chip sales by companies using US technologies, the sales of TSMC's advanced chips from its Taiwan fabs to Chinese clients could also be curtailed, TrendForce said.
TSMC's fabs in China and most of China's homegrown chipmakers use 28-nanometer processes or above, which means many of the advanced chips that are under the restrictions come from outside China.
Chips used in high-performance computing by US and Chinese design houses are mostly made by TSMC using 7nm and 5nm processes, and the curbs could reduce orders to TSMC for those chips, TrendForce said without providing a precise estimate.
TSMC declined to comment on the curbs, saying it was focused on its quarterly earnings conference on Thursday.
Minister of Economic Affairs Wang Mei-hua (王美花) on Sunday said the ban would have a limited effect on Taiwanese suppliers, as they seldom receive orders from China for artificial intelligence and high-performance computing chips.
Additional reporting by Bloomberg
Comments will be moderated. Keep comments relevant to the article. Remarks containing abusive and obscene language, personal attacks of any kind or promotion will be removed and the user banned. Final decision will be at the discretion of the Taipei Times.