OPEC+ mulls output limit cut of up to 2m barrels a day
OPEC+ was yesterday considering its biggest production cut since 2020 as it tries to stabilize oil prices, a move that risks cranking up tensions with Washington.
The group was set to discuss a cut to its production limits of as much as 2 million barrels a day, using current baselines, delegates said ahead of the meeting.
Still, in reality the move would have a smaller impact on global supply as several countries are already pumping below their quotas.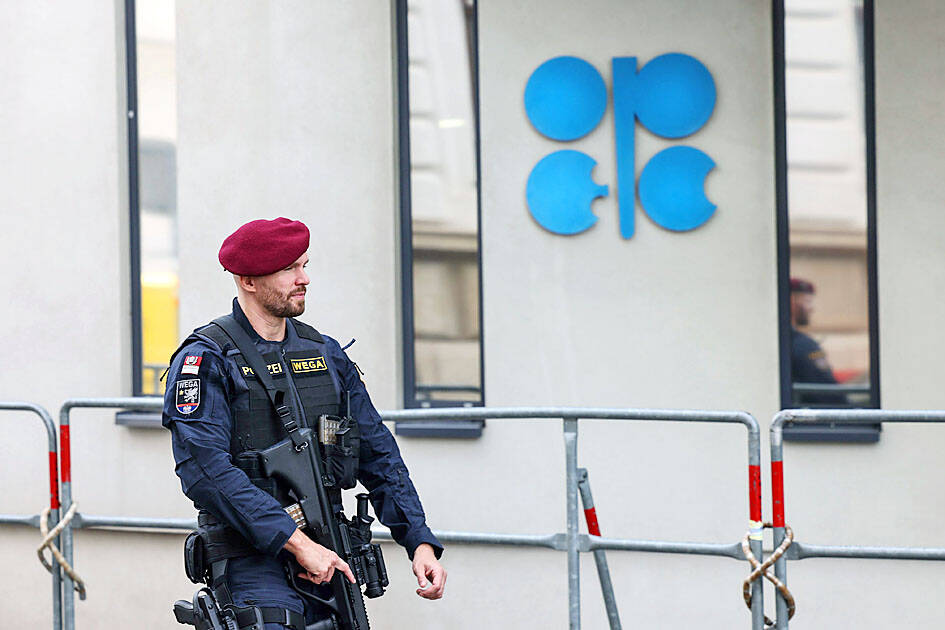 An armed police officer patrols outside the OPEC Secretariat building ahead of the 33rd meeting of the OPEC and non-OPEC countries in Vienna yesterday.
Photo: Bloomberg
They might also discuss smaller cuts of 1 million to 1.5 million barrels a day, delegates said.
"This is an important meeting," Emirati Minister of Energy Suhail Al Mazrouei told reporters in Vienna.
A large OPEC+ cut risks adding another shock to the global economy, which is already battling inflation driven by high energy costs. It would irk the US — and potentially trigger a response from Washington.
US President Joe Biden visited Saudi Arabia earlier this year in search of higher production and lower pump prices for Americans ahead of the midterm elections next month.
"It is hard to overstate how anxious the Biden administration is about a potential resurgence in oil prices," Rapidan Energy Group founder Bob McNally said in Vienna.
"A large OPEC+ cut would antagonize the White House though officials may wait to see how prices respond afterward before pulling the trigger on policy responses," he said.
White House officials have asked the US Department of Energy to analyze whether a ban on exports of gasoline, diesel and other refined petroleum products would lower prices, Bloomberg reported on Tuesday.
It is a controversial idea, but one that is gaining traction in some corners of the Biden administration
As OPEC+ ministers meet in Vienna, European and US leaders are working to curb the revenues that Moscow receives from oil to try to weaken Russian President Vladimir Putin's war machine.
The EU yesterday backed a new package of Russia sanctions that includes support for a price cap on oil sales to third countries, people familiar with the issue said.
The agreement includes measures to mitigate the impact the sanctions will have on countries with large shipping industries, such as Greece, Cyprus and Malta, said the people, who asked not to be identified because the discussions were private.
The sanctions would add a ban on shipping Russian oil to existing restrictions on services needed to transport it, but carve out an exemption for oil priced at or under a level set by a coalition of the G7 and other countries, a draft of the proposal seen by Bloomberg showed.
The OPEC+ move goes in the opposite direction and underscores the strains in the US-Saudi Arabia relationship, and the enduring strength of Riyadh's ties with Moscow despite the war.
Comments will be moderated. Keep comments relevant to the article. Remarks containing abusive and obscene language, personal attacks of any kind or promotion will be removed and the user banned. Final decision will be at the discretion of the Taipei Times.