StarLux expanding flights, aiming to make a profit
StarLux Airlines Co (星宇航空) aims to turn a profit next year by expanding its passenger operations to North American and Southeast Asian markets and by increasing its cargo business, CEO and general manager Glenn Chai (翟健華) told a news conference in Taipei yesterday.
The airline would offer new flights to Okinawa and Sapporo in Japan, as well as resume flights to Da Nang, Vietnam, at the end of next month to meet demand in the fourth quarter — a peak travel season, Chai said, adding that by that time, StarLux would be flying to a total of 13 destinations.
It would offer new flights between Taipei and Los Angeles from April and between Taipei and San Francisco in the second half of next year, he said.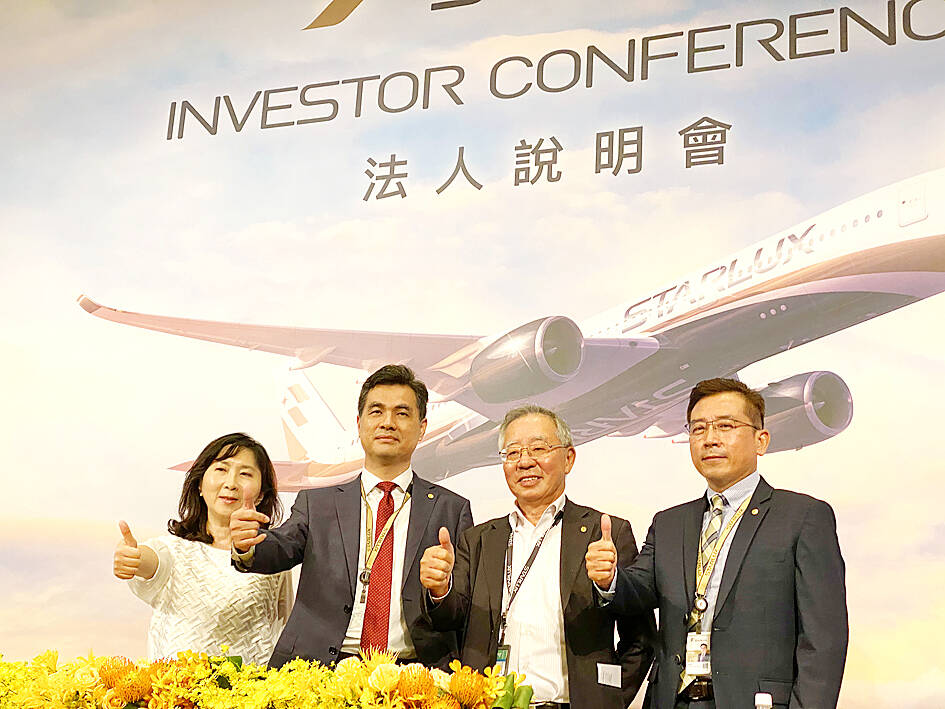 From left, StarLux Airlines Co finance executive Chang Chih-lin, chief executive officer Glenn Chai, chief communications officer Nieh Kuo-wei and chief strategy officer Simon Liu gesture at an investor conference in Taipei yesterday.
Photo: CNA
It would also be using its wide-body aircraft on Asian routes, he said.
Soon after its launch in early 2020, StarLux's operations were stalled by the COVID-19 pandemic and tight border controls worldwide.
With countries easing border controls, StarLux is upbeat about the outlook for global travel, especially with Taiwan also opening its borders soon, chairman Chang Kuo-wei (張國煒) said in a statement.
As of the end of June, global passenger demand had returned to about 70 percent of pre-pandemic levels, Chang said.
With the deliveries of new planes, StarLux's fleet size would expand from 12 to 19, with 13 Airbus 321 Neo, four Airbus 330 Neo and two Airbus 350 jets, Chang said.
The airline aims to triple its capacity from a year earlier and double the number of flights in the fourth quarter from the third quarter, he said.
Addressing criticism that Taiwan's market is too small to support a third airline — after China Airlines Ltd (中華航空) and EVA Airways Corp (長榮航空) — Chai said that StarLux would not solely rely on the domestic market, but also target transit, business and international passengers.
By leveraging Taiwan's excellent location, the airline would develop its regional flying network in Asia and balance its operations in Northeast and Southeast Asia to sharpen its competitiveness, he said.
It would target about 1 billion transit passengers who transfer from North America to Southeast Asia, he said.
Ticket prices might be higher than they were in the past given inflation and anti-virus measures, but prices would primarily be determined by market demand and supply, Chai said.
The airline also plans to purchase cargo jets to boost its cargo business and would consider buying ATR aircraft for domestic operations, Chang said, while stressing that StarLux would focus on international flights.
"Domestic flights would come later, and they could cushion impact from unknown factors, such as a pandemic," he said.
Comments will be moderated. Keep comments relevant to the article. Remarks containing abusive and obscene language, personal attacks of any kind or promotion will be removed and the user banned. Final decision will be at the discretion of the Taipei Times.