Siemens Gamesa to triple Taichung employees in renewable energy plant expansion
Wind turbine manufacturer Siemens Gamesa Renewable Energy SA on Wednesday broke ground on an expansion of its nacelle assembly plant at the Port of Taichung, which is expected to more than triple the number of the company's local employees, it said in a statement.
"We are thrilled to triple our activities in Taichung and to be leading the Taiwanese offshore revolution," Marc Becker, CEO of Siemens Gamesa's offshore business, said in the statement.
The company aims to make the Taichung plant "the centerpiece of our Asia-Pacific offshore manufacturing activities," Becker added.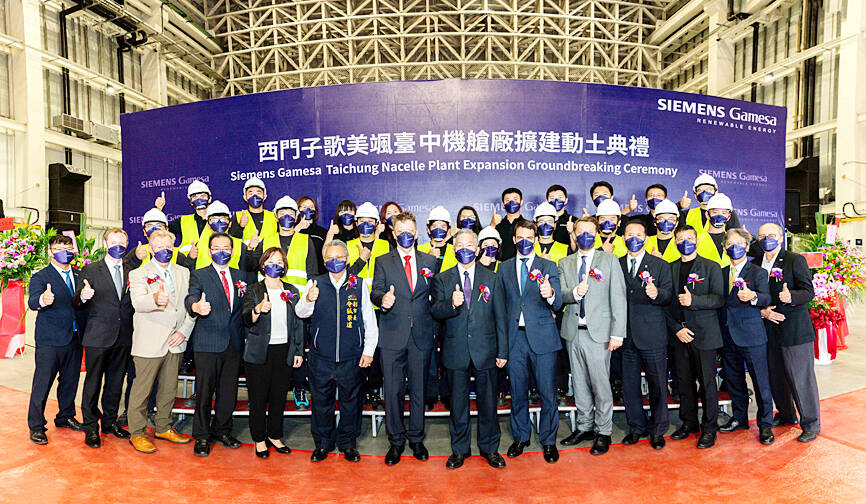 Siemens Gamesa Offshore for Asia-Pacific general manager Niels Steenberg, front row center left, Vice Premier Shen Jung-chin, front row center right, and other guests attend a groundbreaking ceremony in Taichung on Wednesday.
Photo courtesy of Siemens Gemesa Renewable Energy SA
The Siemens Gamesa nacelle plant launched in Taichung last year is the largest production facility of its kind in Taiwan, with the first locally made nacelles being provided to Orsted A/S' 900 megawatt Greater Changhua 1 and 2a offshore wind farms projects.
The expansion is expected to boost the plant's annual production capacity to 2 gigawatts, with the addition of two new production halls and a new warehouse, the company said.
The new facilities are to have dedicated production lines for hub assembly, nacelle backend assembly and final nacelle assembly, including generator-related work, it said.
Siemens Gamesa said it plans to start assembly of its latest SG 14-222 DD nacelles at the Taichung plant in the second quarter of 2024, and open up opportunities for a vast range of Taiwanese suppliers to feed more than 10,000 components needed for the new nacelles.
With a larger capacity, the plant is intended to deliver locally made nacelles for the 1.044 gigawatt Hai Long offshore wind power project, future projects from the government's stage 3 offshore wind farm development plan, and other projects in the Asia-Pacific region, the company said.
"With the factory expansion, we are looking forward to leveraging this local footprint together with the Taiwanese supply chain, building a regional offshore wind manufacturing powerhouse based in Taiwan," Siemens Gamesa Offshore for Asia-Pacific general manager Niels Steenberg said in the statement.
Siemens Gamesa is scheduled to send its first batch of Taiwanese employees for training in Europe beginning next month, it said.
Training involves three months at Siemens Gamesa's offshore wind turbine factory in Brande, Denmark, and next year they are to receive on-the-job training alongside nacelle assembly colleagues in Cuxhaven, Germany, it said.
Comments will be moderated. Keep comments relevant to the article. Remarks containing abusive and obscene language, personal attacks of any kind or promotion will be removed and the user banned. Final decision will be at the discretion of the Taipei Times.