Taiwan GDP growth to slow to 3.4%: institute
'ACCEPTABLE': Economic growth is expected to weaken in the coming two quarters before bouncing back, with domestic demand replacing exports as the growth driver
Taiwan's economy would expand 3.4 percent this year as it slows down from last year's COVID-19 pandemic-induced boom while keeping in line with historic trends, the Yuanta-Polaris Research Institute (元大寶華綜經院) said yesterday.
Ongoing inventory corrections are caused by overbooking during COVID-19 lockdowns, rather than a decline in global demand for goods and services, institute president Charles Yeh (葉銀華) said.
The corrections could end in the first quarter of next year, Yeh said.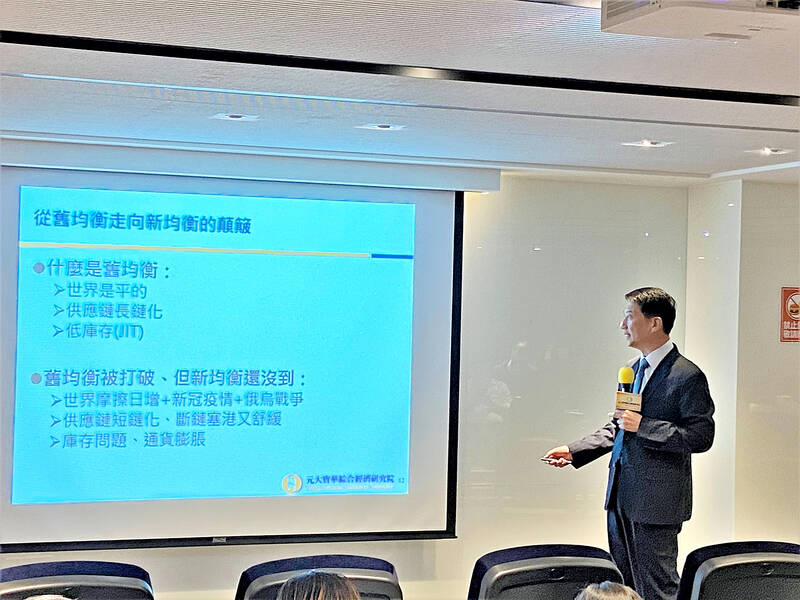 Yuanta-Polaris Research Institute president Charles Yeh speaks at a news conference in Taipei yesterday.
Photo: Huang Tzu-hsun, Taipei Times
"Taiwan's GDP would put up a normal, acceptable growth of 3.4 percent this year, compared with a 12-year-high of 6.57 percent last year," as COVID-19-induced demand for remote working and learning wanes, he said.
As local manufacturers would need four quarters to digest excess inventory, Taiwan's economic growth would weaken to 2.75 percent next quarter and 1.65 percent in the first quarter of next year before bouncing back, Yeh said.
Exports of non-tech products slipped into the contraction zone last month and might encounter further headwinds as central banks tighten their monetary policies to curb inflation, he added.
The scenario would allow domestic demand to replace exports as the main growth driver, the institute said.
Private investment is expected to increase 6.89 percent this year, propped up by robust global demand for chips used in smartphones, laptops, vehicles, data centers, and artificial intelligence and Internet of Things applications, it said.
Private consumption would rise 3.19 percent this year, with an expected gain of 6.51 percent this quarter and 2.95 percent in the fourth quarter, the institute said.
The projection assumes consumer spending returning to pre-pandemic levels — with people becoming used to living with the virus and authorities gradually lifting disease control measures, it said.
Inflationary pressures, a key threat to consumer spending, would climb 2.94 percent this year, suggesting a 3.01 percent pickup this quarter and a 2.49 percent rise in the fourth quarter, it said.
Consumer prices would soften below the 2 percent alert level to 1.69 percent next year, it said.
The forecast assumes the central bank would raise interest rates by another 0.125 percentage points today to tame inflation, much lower than the US Federal Reserve's 0.75 percentage point rate hike, Yeh said.
Capital flight would persist as portfolio managers at home and abroad respond to Taiwan's widening rate gap with the US, he said.
The local bourse and the New Taiwan dollar would be affected amid fund redeployment, he added.
The capital movements would not become uncontrollable and could turn around in the coming six months, Yeh said.
Comments will be moderated. Keep comments relevant to the article. Remarks containing abusive and obscene language, personal attacks of any kind or promotion will be removed and the user banned. Final decision will be at the discretion of the Taipei Times.