Next Bank to sell insurance online in Q4
Next Commercial Bank Co (將來商業銀行) yesterday said it would start selling insurance online in the fourth quarter after it on Friday received approval from the Financial Supervisory Commission to do so, ahead of the nation's two other Web-only banks.
"Initially, we might focus on car insurance and travel insurance," a Next Bank manager said by telephone.
The bank plans to set up an Internet platform with the latest technology for consumers to select and purchase insurance policies in the fourth quarter, it said.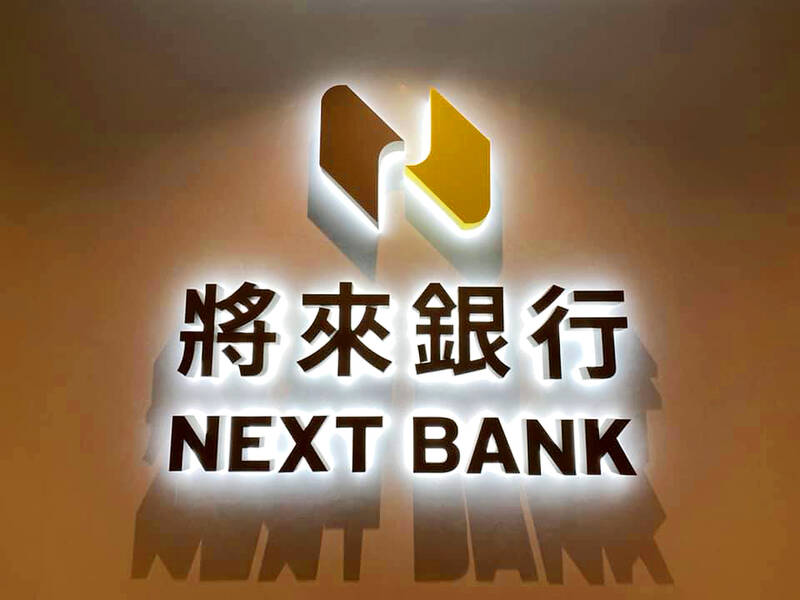 Next Commercial Bank's name and logo are pictured in an undated photograph.
Photo courtesy of Next Commercial Bank
The bank is upbeat about the new business, as selling insurance products online is becoming popular in Taiwan, it said.
The number of insurance policies and the amount of sales sold online showed significant annual increases in the first seven months of the year, it said.
Expanding into the online insurance business is a goal shared by Next Bank and Line Bank Taiwan Ltd (連線商業銀行) as a way to increase profit margins in the competitive banking market.
Line Bank has operated for more than a year, while Next Bank opened just five months ago.
Next Bank said it was moving into new businesses faster than its peers, as it also aims to launch foreign currency exchange and wealth management segments in the coming months.
As of the end of June, Line Bank led its peers with 1.23 million accounts, ahead of Next Bank's 101,878 accounts and Rakuten International Commercial Bank Co's (樂天國際商銀) 91,513 accounts, Financial Supervisory Commission data showed.
Comments will be moderated. Keep comments relevant to the article. Remarks containing abusive and obscene language, personal attacks of any kind or promotion will be removed and the user banned. Final decision will be at the discretion of the Taipei Times.