TSMC building 8-inch fab in Tainan
RESILIENT DEMAND: Prices for more mature 8-inch components rose earlier this year and the firm said it expected supply to remain tight even if the global economy slows
Taiwan Semiconductor Manufacturing Co (TSMC, 台積電), the world's biggest contract chipmaker and sole chip supplier for Apple Inc's iPhones, yesterday said that it is building a new 8-inch fab to meet robust demand for mature technologies, marking its first investment on a less advanced fab in 15 years.
Supply of mature and specialty technologies, especially from 8-inch fabs, has been constrained industrywide over the past year as demand rises for power management ICs, fingerprint identification chips, complementary metal-oxide-semiconductor (CMOS) image sensors and a wide range of other applications.
Tight supply caused a rare price hike for 8-inch wafers earlier this year.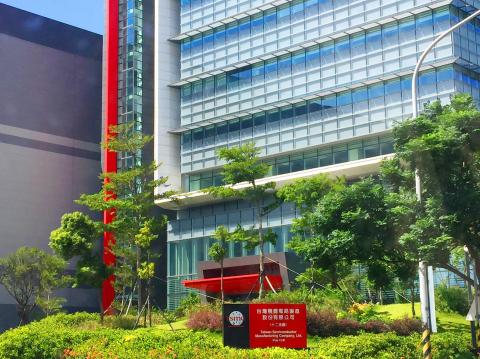 Taiwan Semiconductor Manufacturing Co headquarters are pictured in Hsinchu on Nov. 22.
Photo: Hung Yu-fang, Taipei Times
Beyond investment on scaling down chip sizes, "we also spend on specialty technologies," TSMC vice chairman and chief executive officer C. C. Wei (魏哲家) said in his opening speech at the company's annual supply chain management forum in Hsinchu. "Most recently, we are building a new 8-inch fab in Tainan because demand is so strong."
The company is working closely with customers so that it can build capacity in advance to satisfy their demand, Wei said, implying that customer demand for less advanced chips has remained unscathed amid a fickle global trade environment.
TSMC offers a wide range of specialty technologies from power management ICs and CMOS sensors to microelectromechanical systems.
The new 8-inch fab, TSMC's fifth, would be adjacent to an existing 8-inch fab, Fab 6, TSMC said.
In October, TSMC said that factory utilization at its 8-inch fabs was good and customers were lining up for certain mature technologies.
Demand for 8-inch wafers remained strong and no signs pointed at a slowdown, the chipmaker said that month.
Local rival United Microelectronics Co (UMC, 聯電) in October also reported strong demand as it told investors that its 8-inch fabs would be fully loaded this quarter.
UMC plans to add 2 percent more 8-inch wafer capacity this year to increase supply.
TSMC plans to spend US$10 billion to US$10.5 billion on new equipment this year, mostly to increase production of its most advanced 7-nanometer technology.
The company plans to keep its capital spending high at between US$10 billion and US$12 billion in next five years to maintain its technological leadership and to support its revenue growth target of 5 percent to 10 percent annually, it said.
With heavy investment on advanced technologies, the chipmaker expects to begin risk production of next-generation 5-nanometer technology in the second quarter of next year and to enter mass production in 2020, Wei said.
The company is also preparing to start building a new fab for 3-nanometer technology, he said, adding that the construction plans are subject to an environmental impact assessment.
Separately, TSMC yesterday dismissed a report by the Nikkei Asian Review, saying that it is not launching any austerity program or cutting employees' overseas travel in response to flagging customer demand.
The chipmaker said it downgraded a car leasing program for the company's high-ranking executives in March.
Vice presidents of TSMC were told to choose affordable Toyota cars to commute, instead of luxury Mercedes or BMW models, the chipmaker said, adding that they could still opt for luxury cars by paying the difference.
Comments will be moderated. Keep comments relevant to the article. Remarks containing abusive and obscene language, personal attacks of any kind or promotion will be removed and the user banned. Final decision will be at the discretion of the Taipei Times.