Make life easier for expats: ECCT
EQUAL TREATMENT: To attract foreigners and solve its shortage of skilled labor, Taiwan should provide access to more services and subsidies, the ECCT chairman said
The European Chamber of Commerce Taiwan (ECCT) on Thursday called for less hurdles for foreigners wanting live and work in Taiwan to solve its shortage of skilled labor.
"The government should make it easier for foreigners to live and work in Taiwan," ECCT chairman Hakan Cervell told an audience that included President Tsai Ing-wen (蔡英文), senior government officials and executives from European and Taiwanese companies.
The foreign trade group, which has US$45 billion in direct foreign investments, lauded the labor law revision early this year and said the passage of the Act Governing Recruitment and Employment of Foreign Professionals (外國專業人才延攬及雇用法) was a good first step.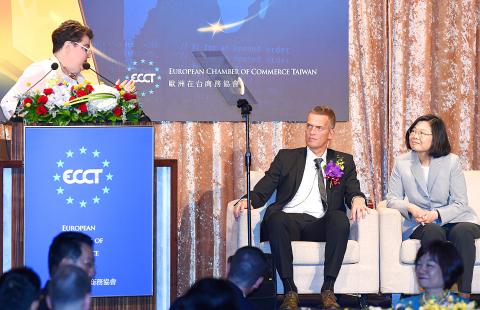 European Chamber of Commerce Taiwan chairman Hakan Cervell, center, and President Tsai Ing-wen, right, listen as European Economic and Trade Office head Madeleine Majorenko, left, delivers a speech at the annual European Day dinner hosted by the chamber in Taipei on Thursday.
Photo: Liao Chen-huei, Taipei Times
However, further efforts are needed to make Taiwan business-friendly and attractive to foreign talent, it said.
Existing rules mean foreign nationals are treated unequally to Taiwanese residents, with different number formats for Taiwanese identity cards and Alien Resident Certificates, Cervell said.
The practice denies foreign resident card holders access to many services, as more services go online, he said.
Other examples of unequal treatment include foreign residents not being eligible for electric vehicle subsidies or senior citizen discounts on the High-Speed Rail service, he said.
The government could also resolve the shortage of skilled labor by introducing short-term business visas and allowing more foreign workers in the service sector.
The ECCT said it welcomes Taiwan's effort to speed up the development of the "green" energy industry, but added that many obstacles need to be overcome if the nation wants renewable energy sources to supply 20 percent of electricity by 2025.
Challenges include constructing supporting infrastructure such as electricity grids and harbors, streamlining the permitting process, and resolving financial issues in line with international trends and standards, the chamber said.
"European companies in the wind energy industry are committed to developing Taiwan into a regional manufacturing and support hub for wind energy in Asia. However, it will take time to develop local competence and expertise," Cervell said.
The ECCT said it supports the creation of smart cities, but the right infrastructure must first be put in place, such as 5G telecommunications, electric vehicle charging stations and smart grids, Cervell said, adding that the regulatory environment must be flexible enough to allow technological innovation and new business models.
The ECCT supports making English the second official language of Taiwan, as English is the global language of business, diplomacy and international organizations.
"Making English an official language would make Taiwan more attractive to international investors and give Taiwan more access to the world," Cervell said.
Comments will be moderated. Keep comments relevant to the article. Remarks containing abusive and obscene language, personal attacks of any kind or promotion will be removed and the user banned. Final decision will be at the discretion of the Taipei Times.