Swiss to demand German car overhaul
EQUAL TREATMENT: The head of the roads office said that Germany might force its carmakers to replace the hardware on their cars, in which case Switzerland would follow suit
Switzerland is to demand that German automakers treat Swiss customers the same as German buyers of diesel cars being fixed to cut pollution, Swiss Federal Roads Office Director Juerg Roethlisberger said.
The comments by add pressure on carmakers like Volkswagen AG, BMW AG, Daimler AG, Audi and Porsche, which this week agreed to overhaul engine software on 5.3 million diesel cars and try to repair the sector's battered reputation.
Politicians in Germany stopped short of demanding costly mechanical modifications to engine and exhaust systems.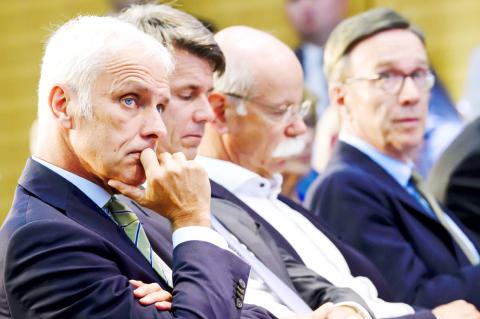 From left, Volkswagen AG chairman Matthias Mueller, BMW CEO Harald Krueger, Daimler AG chairman Dieter Zetsche and German Automobile Industry Association president Matthias Wissmann attend the "Diesel Summit" at the Ministry of Transport in Berlin on Wednesday, where new measures were announced in the emissions scandal.
Photo: EPA
"I can guarantee you that we will certainly demand the same for Swiss customers that German customers get," Roethlisberger told broadcaster SRF in an interview aired on Saturday.
Swiss authorities would monitor the situation to see what the proposed fixes bring and if public pressure forces German carmakers to take the more costly step of replacing hardware on affected cars, then Switzerland would demand the same, he said.
NO BAN
Roethlisberger dismissed calls from Swiss environmentalists and center-left politicians to ban the import of certain diesel vehicles on the grounds that their nitrogen oxide emissions posed a health hazard.
Swiss prosecutors last year opened criminal proceedings and seized evidence from the AMAG dealership network after a court ruled Swiss investigators must conduct their own investigation of an emissions scandal at Volkswagen.
AUDI IMPLICATED
Meanwhile, Bavaria state prosecutors in Munich made Audi a party to the diesel-emission probe, a step that might allow the seizure of profits the company made from selling vehicles with rigged engines.
Munich prosecutors investigating Audi employees for fraud have formally added the carmaker to a related inquiry looking into whether executives neglected their supervisory duties allowing the cheating to happen, Karin Jung, spokeswoman for the investigators, said in an e-mailed statement.
The review will be handled under administrative rules that allow for sanctioning wrongdoing at companies.
While Germany does not allow for prosecution of companies under criminal laws, an administrative probe is the tool prosecutors can use to sanction firms.
The rules allow authorities to seize profits made through illegal conduct.
Siemens AG, which faced the same type of review during a corruption probe about a decade ago, settled with Munich prosecutors for 600 million euros (US$706 million).
Audi was notified about the step and will continue to work constructively with prosecutors, company spokesman Oliver Scharfenberg said on Saturday.
Volkswagen is already facing the same type of review by Braunschweig prosecutors.
The company in September 2015 admitted that about 11 million diesel vehicles worldwide were sold with so-called defeat devices.
Additional reporting by Bloomberg
Comments will be moderated. Keep comments relevant to the article. Remarks containing abusive and obscene language, personal attacks of any kind or promotion will be removed and the user banned. Final decision will be at the discretion of the Taipei Times.