INTERVIEW: Caesar hotels believes in Taiwanese hospitality
Local hotel chain Caesar Park Hotels and Resorts plans to triple its size by launching five new properties with more than 2,000 guestrooms later this year, which would make it the largest hospitality provider in the nation. The aggressive expansion has raised many eyebrows and deepened concerns about oversupply, as existing facilities struggle to cope with a continued decline in Chinese tourists. Caesar Park vice president Jack Wu discussed the group's bold strategy during an exclusive interview with 'Taipei Times' staff reporter Crystal Hsu in New Taipei City last Monday
Taipei Times: Would you explain why Caesar Park Hotels and Resorts (凱撒飯店) plans to launch new properties in Greater Taipei in August, bucking general views that the industry is hard-pressed by an increasingly crowded field and a sharp decline in Chinese travelers?
Jack Wu (武祥生): Our affiliate Hung Kuo Group (宏國集團) back in 2010 won build-operate-transfer (BOT) contracts to develop hotels on government-owned land and it is time to wrap up construction on those projects. It appeared wise and desirable at that time, when the influx of Chinese tourists created insatiable demand for new guestrooms.
No one could tell that hotels would grow at a super-fast pace and then come to a standstill after Taiwan's ties with China turned sour in May last year. Surely, with the benefit of hindsight, we would have reconsidered the BOT contracts.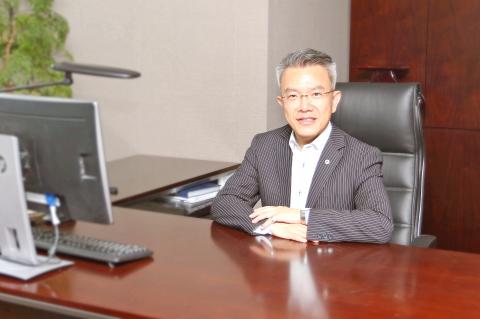 Caesar Park Hotels and Resorts vice president Jack Wu, poses at his office in the Caesar Park Banciao hotel in New Taipei City last Monday.
Photo courtesy of Caesar Park Hotels & Resorts
At each point in the business cycle there are winners and losers. We have decided to push ahead with our investment plans — valued at NT$6 billion (US$197.4 million) alone in New Taipei City's Banciao District — because we believe the market looks healthy in the long run, especially for competitive properties.
Administrations come and go and cross-strait ties will not stay icy forever.
In my view, Taiwan's hotels can be profitable without Chinese tourists. That is how it was before the lifting of obstacles for Chinese travelers. The market can make do with 6 or 7 million inbound travelers a year — a 30 percent slump from over 10 million in the past two years. This would slow the return-on-investment schedule, but we will be patient.
TT: What is the group's business strategy for each of the new properties?
Wu: The new properties are going to raise our total number of hotel rooms to more than 3,000, turning Caesar Park into the largest hotel chain in Taiwan.
We are going to introduce two hotel concepts under different brands on the site of the old Banciao Railway Station: Caesar Park Banciao (板橋凱薩飯店) and Hotel Cham Cham (趣淘慢旅店).
Caesar Park Banciao is intended to become our flagship property in New Taipei City. It will offer 410 luxury guestrooms, three restaurants, a roof-top swimming pool and other amenities required of a five-star facility with room rates of about NT$5,500 per night.
The hotel has joined the France-based Exclusive Island Hotels & Resorts collection, which should help boost its name recognition and sales.
Hotel Cham Cham is another of our brands, aimed at attracting young and fashionable travelers. It offers 337 designed guestrooms priced from about NT$3,500 per night.
In addition, we are set to ink a cooperation agreement with Hilton Worldwide Holdings Inc next month that will see the US hotel chain offer another 400 rooms at the same complex.
As the first international five-star brand in New Taipei City, Hilton Banciao is expected to charge NT$6,000 per night when it starts operations next year. I should let our US partner explain why it wants to rejoin the local market after a 14-year hiatus.
TT: How are you going to position the other three new properties in Taipei?
Wu: We will open a large, 758-room property on the site of the former Wanhua Railway Station under the Taipei Caesar Metro (台北凱達大飯店) brand. We intend for this facility to host tour groups from Hong Kong, Japan and other countries at daily room rates of about NT$3,500.
We will launch a 139-room boutique hotel under the ArTree (阿樹旅店) brand to accommodate urban business travelers. The property is part of an urban renewal project to modernize Taipei's Zhonglun Market (中崙市場) on Bade Road. It should charge about NT$6,000 per night.
Finally, we have completed the Jiangnan Market reconstruction project in the city's Neihu District (內湖) and will turn part of the building into a hotel offering 100 guestrooms for about NT$4,000 per night. We have not picked a brand for the facility yet.
TT: Have you had any difficulty recruiting employees, and what do you plan to achieve in terms of occupancy and room rates for the new properties this year?
Wu: The recruitment process has been quite smooth, although most positions are in New Taipei City, which is a second-tier location compared with Taipei.
I had expected it to be more difficult, especially to find entry-level employees, due to the relatively low wages and arduous work involved. We have assigned more importance to enthusiasm than experience and have managed to bring many young people on board.
Caesar Park Banciao is going to have only female doorkeepers greet customers. The strategy is part of our attempt to set the property apart from competitors in Taiwan.
We expect to achieve occupancy rates of 50 percent for the five properties this year and are in talks with online and physical sales channels at home and abroad. We are also pursuing ties with corporate customers.
We expect food and beverages at Caesar Park Banciao to generate 40 percent of the revenue and hope to build its three restaurants into the most popular eateries in New Taipei City.
The property aims to woo customers away from the Sheraton Grand Taipei Hotel (台北喜來登大飯店) and Palais de Chine (君品酒店), which are just one or two stops away by train or high speed railway.
TT: What is the business outlook for Caesar Park Taipei (台北凱薩) and Caesar Park Kenting (墾丁凱薩)?
Wu: The two facilities have shown themselves resilient so far this year, with occupancy and room rates steady from last year, thanks to their convenient locations. Caesar Park Taipei lies across from Taipei Main Station and Caesar Park Kenting is in the vicinity of Kenting National Park (墾丁國家公園) in Pingtung County.
Their performance should improve in the second half of the year with the advent of high-sales season. This performance lends force to our belief that competitive hotels can thrive with or without Chinese travelers.
Comments will be moderated. Keep comments relevant to the article. Remarks containing abusive and obscene language, personal attacks of any kind or promotion will be removed and the user banned. Final decision will be at the discretion of the Taipei Times.