Electric bikes a silver lining in gloomy year
Giant Manufacturing Co Ltd (巨大機械), the nation's largest bicycle maker, yesterday said it expects revenue contribution from electric bikes to reach 10 percent by 2022, compared with last year's 7 percent.
The target has been set because of robust demand for electric bikes in Europe, despite the company's gloomy performance last year.
Giant had a difficult year last year, with cumulative revenue down 5.57 percent to NT$57.01 billion (US$1.87 billion) from the previous year, according to a company filing with the Taiwan Stock Exchange.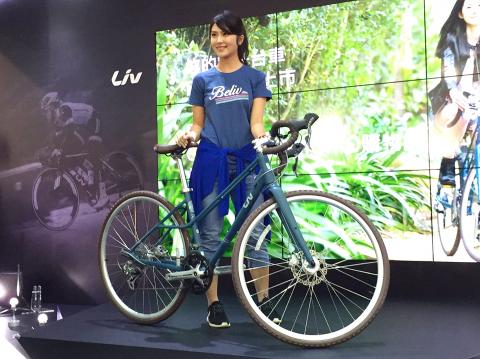 A model displays a Liv bicycle, Giant's new line of bikes for female consumers, on the opening day of the four-day Taipei International Cycle Show at the Taipei World Trade Center yesterday.
Photo: CNA
In the first three quarters of last year, the company saw its net profit fall 20 percent year-on-year to NT$2.4 billion, or earnings per share of NT$6.4, the company's latest data showed.
The company has not yet released its results for the final quarter of last year.
However, in the European market alone, revenue from electric bikes last year soared 50 percent year-on-year, Giant said.
Apart from Europe, the company said it also plans to expand its electric bike business in the US and Australia this year.
"We are planning to introduce electric mountain bikes [to the US market] this year to attract more customers who are fond of outdoor activities," Giant chairwoman Bonnie Tu (杜綉珍) yesterday told reporters at the Taipei International Cycle Show.
Following a diversified product strategy, Giant is also to launch its first electric bike for female cyclists under its sub-brand Liv in the first half of this year.
Looking ahead, Giant gave a conservative outlook for this year, as the company still has concerns about its business in China.
The decline in sales and profits last year was mainly due to sliding revenue from China, Giant chief executive Young Liu (劉湧昌) said.
Revenue from China contributed 18 percent of the company's total sales last year, while sales from Europe and the US accounted for 31 percent and 21 percent respectively, company data showed.
The company said it is facing intense competition in China, despite increasing demand for bikes.
Most Chinese customers tend to buy low-priced bikes to commute to work, but Giant mainly provides high-end products, such as road bikes and touring bikes, Liu said.
He said the company is to launch a "special plan" for the Chinese market in the second half of this year, but he declined to provide details.
Shares of Giant, which distributes its products in more than 80 nations, fell 0.27 percent to close at NT$185.5 in Taipei trading yesterday.
Comments will be moderated. Keep comments relevant to the article. Remarks containing abusive and obscene language, personal attacks of any kind or promotion will be removed and the user banned. Final decision will be at the discretion of the Taipei Times.