Asian postal firms adapt to post-mail era ruled by e-commerce
With the pre-Christmas rush at its peak, a serpentine network of conveyor belts at Singapore Post Ltd's (SingPost) new logistics center moves parcels destined for addresses across the world in time for the festive season.
It is a scene repeated in sorting offices around the world in December, the busiest time of the year for postal firms with armies of workers toiling to get presents delivered on time.
However, times are changing and the explosion of online shopping is forcing traditional delivery companies, such as SingPost, to adapt or be damned.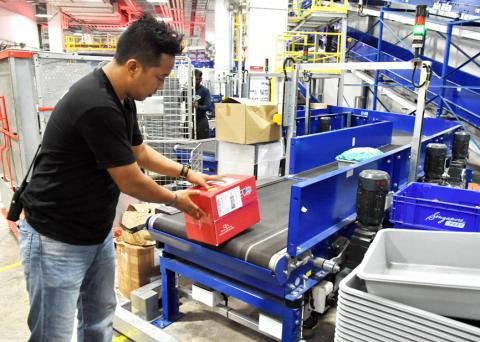 A worker places inbound parcels on a conveyor belt for coding at the sorting section of Singapore Post's logistics center in Singapore on Dec. 5.
Photo: AFP
The growth of Web sites, such as Amazon and Alibaba Group Holding Ltd (阿里巴巴), means customers can avoid crowded high streets and buy anything from mobile phones to sports equipment online and send them straight to loved ones.
US-based research firm eMarketer said online sales are expected to reach US$1.9 trillion this year and top US$4 trillion by 2020.
And traditional firms are making moves to keep up.
The about 200-year-old SingPost, which is partly owned by Alibaba, last month inaugurated its e-commerce sorting office capable of handling up to 100,000 parcels a day.
It also provides a service setting up retail Web sites for clients and allows for online payments, while it has teamed up with brands, including Adidas AG, Timberland Co and Xiaomi Corp (小米), to help expand their online retail sales in the region.
Last year it expanded its US and European presence by buying e-commerce technology provider Jagged Peak and e-commerce firm TradeGlobal.
'CHANGE OR DIE'
"In this new digital age, the lives of the traditional postal companies are coming to a turning point: change or die," said Cris Tran, an analyst with consultancy Frost & Sullivan.
With traditional mail volumes dropping dramatically, e-commerce offers hope for national postal firms in Asia if they adapt quickly enough and do battle with giants like FedEx Express Corp and DHL Express.
This year's "Singles Day" online promotion by Alibaba on Nov. 11 grossed 120.7 billion yuan (US$17.8 billion), smashing last year's record of 91.2 billion yuan.
Asian postal firms "are doing some very innovative things to take advantage of e-commerce," said Brody Buhler, global managing director for post and parcel at consultancy Accenture Ltd.
Japan Post Holdings Co has partnered with convenience stores to provide 24-hour delivery, while Pos Malaysia Bhd is boosting its warehousing, logistics and other capabilities in a bid to become a full-service e-commerce provider, Buhler said.
"Pos Indonesia investments in capabilities, such as lockers and faster fulfillment from China, are great examples of postal organizations investing to take full advantage of the opportunity e-commerce provides for growth," he added.
In the year ended March 2016, e-commerce-related revenues accounted for 35.8 percent of SingPost's turnover that crossed S$1 billion (US$707 million) for the first time and that is tipped to rise further.
Teo Chung Piaw from the National University of Singapore's Business School said Asian postal firms must also compete with domestic start-ups and delivery specialists, such as Japan's Ta-Q-Bin and China's SF Express (順豐快遞).
Regulation of state-owned postal firms is also slowing crucial reforms that would allow them to compete better, he added.
Government-owned Australia Post needed regulatory approval to raise the cost of a basic postage stamp, a move it said was necessary to ease losses in its traditional letter business.
Comments will be moderated. Keep comments relevant to the article. Remarks containing abusive and obscene language, personal attacks of any kind or promotion will be removed and the user banned. Final decision will be at the discretion of the Taipei Times.