Poor should receive basic income grants: economist
Nobel laureate Angus Deaton yesterday lent support to basic income grants as part of government efforts to mitigate wealth and consumption inequality.
"The government should take care of people with low income and should be pushing basic income grants," the economist told a forum at the Taipei International Convention Center.
Basic income grants, or guaranteed income, are a government-ensured guarantee that no citizen's income falls below the level necessary to meet their most basic needs.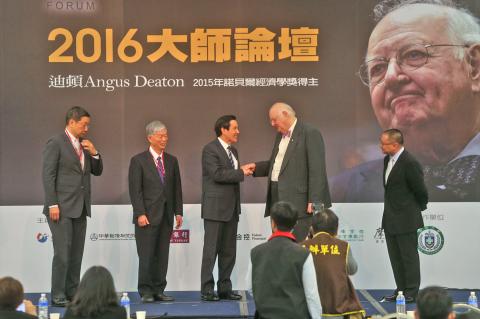 President Ma Ying-jeou, center, yesterday shakes hands with Angus Deaton, winner of the 2015 Nobel Prize in Economics, during a forum at the Taipei International Convention Center.
Photo: CNA
Advocates say the program is an efficient, effective and equitable solution to poverty that not only promotes individual freedom, but also keeps the beneficial aspects of a market economy in place.
Deaton, a professor of economics and international affairs at Princeton University, said that risk, even stationary risk, cumulates into inequality when shaped by rapid technical progress, globalization and a rapidly changing world.
"The larger the factor of shocks, the riskier the world becomes, the more potential there is for increases in inequality," he said.
Deaton was awarded the Nobel Prize in Economics last year for his analysis of consumption, poverty and welfare, with the Economic Sciences Prize Committee saying that his work linking individual choices and aggregate outcomes had helped transform the study of microeconomics, macroeconomics and development economics.
Deaton last year said that there are still 700 million poor people in the world and they are "a constant reproach to all of us."
Wealth inequality is likely to increase at a much faster pace unless there is some offset from an insurance arrangement under a range of personal and social mechanism that ties people together, Deaton has said.
Deaton has said that climate change and inequality are the two greatest challenges facing the world, adding: "I do worry about a world in which the rich get to write the rules."
Deaton has also taken a keen interest in Taiwan, calling it "the home of saving" because people at all ages save a lot, just as all ages save little in the US.
He said he is not able to account for the phenomenon after examining housing, bequest and small business ownership needs.
Deaton rejected the link between Taiwan's excessive savings and Confucianism, adding that South Koreans are also influenced by Confucius, but save less.
Comments will be moderated. Keep comments relevant to the article. Remarks containing abusive and obscene language, personal attacks of any kind or promotion will be removed and the user banned. Final decision will be at the discretion of the Taipei Times.