Acer aims to launch VR products in first half
Acer Inc (宏碁) plans to unveil its first virtual reality (VR) product for consumers in the first half of this year, chief executive officer Jason Chen (陳俊聖) said yesterday.
"Acer has been conducting research and development [R&D] of VR technologies for a while... We are planning to introduce some new technologies to surprise everyone," Chen told reporters.
While continuing with its R&D of VR technologies, the company is thinking about potential business models that it can develop in the field, Chen said.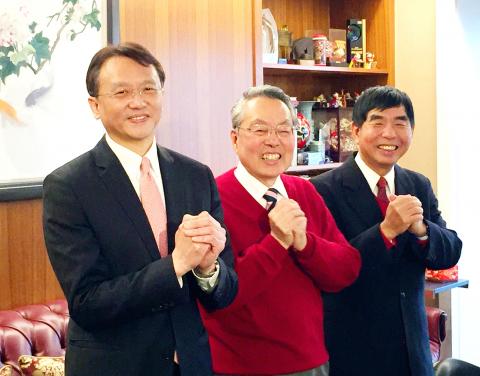 Acer Inc chief executive officer Jason Chen, left, and chairman George Huang, right, visit company founder Stan Shih, center, at his home in Taipei yesterday, after taking part in a ceremony at the company's headquarters in New Taipei City's Sijhih District to mark the first day of work after the Lunar New Year holiday.
Photo: CNA
The VR industry is new and requires a wide range of applications and the establishment of a supporting ecosystem, Chen said.
"We are thinking of how to expand Acer's reach in the field and turn our VR technologies into a business. And that is an important element in the process of Acer's corporate transformation," he said.
Commenting on Acer's core business, Chen said that the company's notebook business in western Europe is "not bad" despite global economic uncertainties.
"Acer is doing quite well in matured west European markets, especially in Germany, Austria and Switzerland, as the economies there are more stable than in other countries," he said.
Notebook demand in countries heavily reliant on the export of natural resources — such as Brazil and Russia — was affected by the continued fall in global crude oil prices, Chen said.
He said that Acer has been careful in monitoring profitability in those markets, but the firm is not considering suspending shipments to avoid risks.
"Acer must maintain a certain degree of market presence in those markets," Chen said.
Acer founder and former chairman Stan Shih (施振榮) said that the company is evaluating the possibility of spinning off its cloud-computing business into automobile electronics, smart medical devices and smart homes to accelerate the firm's years-long corporate transformation.
Separating the cloud-computing business units from the parent company might give those new businesses more flexibility and resources, he said.
Acer will discuss the spin-off plan during its board meeting at the end of next mont, he said.
Acer's sales fell 30.09 percent year-on-year and 29.74 percent month-on-month to NT$15.87 billion (US$474.85 million) last month, it said in a filing with the Taiwan Stock Exchange.
Comments will be moderated. Keep comments relevant to the article. Remarks containing abusive and obscene language, personal attacks of any kind or promotion will be removed and the user banned. Final decision will be at the discretion of the Taipei Times.