HTC shares post double-digit fall on Vive's delay
VIRTUAL REALITY: The company decided to postpone the headset's launch because it was in the process of making a technological breakthrough, Cher Wang said
HTC Corp's (宏達電) stock price dropped 13.11 percent this week, dragged down by the company's announcement that it was postponing the launch of its first virtual reality headset from this month to April next year.
The stock, which opened lower this week, continued its downtrend to close at NT$69 in Taipei trading yesterday, after it announced the delay on Tuesday.
The company said it planned to make an additional 7,000 units of the HTC Vive available to developers at the beginning of next year, and launch its commercial version in April.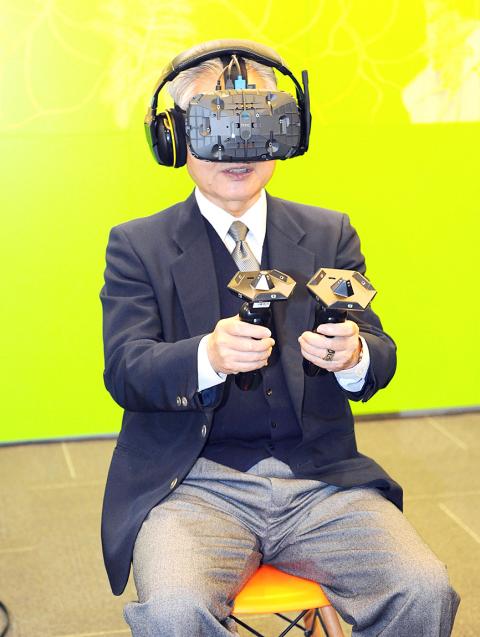 A handout photo released by the Cabinet shows Premier Mao Chi-kuo wearing virtual reality glasses while visiting HTC Corp in Sindian District, New Taipei City, on Friday last week.
Photo: EPA
The announcement sparked market concern about the company's preparation and strategy for its new wearable product lineup, as HTC had said the headset would hit the market this quarter.
The company yesterday said it decided to delay the launch because it was in the process of making a technological breakthrough.
"It was a tough decision to make, as we could have started to ship Vive this month, but after discussing it with Valve, our strategic partner, we decided that we can offer a more technologically advanced product if we postpone it for another quarter," the Chinese-language Apple Daily quoted HTC chairperson Cher Wang (王雪紅) as saying in an interview published yesterday.
Wang said she understood the public disappointment over the delay, but the company made the decision to be able to offer buyers a better user experience.
HTC announced the Vive headset prototype, which it codeveloped with US-based video game developer Valve, in March this year.
HTC chief financial officer Chang Chia-lin (張嘉臨) has said that the company expects its non-smartphone segment, which includes the Vive headset, to contribute as much as 10 percent to overall revenues next year.
However, as pre-orders have been delayed to the end of February next year and commercial shipment scheduled to start in April, HTC will only start to see revenue contribution from the new product in the second quarter.
Deutsche Bank AG thinks Vive is a technologically excellent product, but believes the company's VR headset development is just in the early stages.
"Vive is not enough for HTC to stage a meaningful turnaround," Deustche Bank analyst Birdy Lu (呂家霖) said in a client note on Nov. 30.
Due to weaker-than-expected smartphone demand, HTC posted a net loss of NT$4.4 billion (US$133.4 million), or a loss per share of NT$5.41, for last quarter, marking its second consecutive quarter of losses this year.
Cumulative sales in the first 11 months of the year reached NT$115.16 billion, plummeting 33.32 percent from NT$172.76 billion in the same period last year.
Comments will be moderated. Keep comments relevant to the article. Remarks containing abusive and obscene language, personal attacks of any kind or promotion will be removed and the user banned. Final decision will be at the discretion of the Taipei Times.