Troubled Japan returns to recession
FALTERING POLICY: Japan's 'Abenomics' program has lifted the stock market and lowered the value of the yen, but failed to raise incomes or spur sustained growth
The Japanese economy deteriorated more severely than expected in the third quarter, government data released yesterday showed, extending a downturn into a second consecutive three-month period and putting the country in technical recession.
Worsening business confidence appeared to be behind the decline. Companies reduced investment in the quarter and drew down on their inventories rather than increase production, a sign that they might be bracing for tougher times ahead.
In a preliminary estimate, the Japanese Cabinet Office said gross domestic product shrank at an annualized rate of 0.8 percent.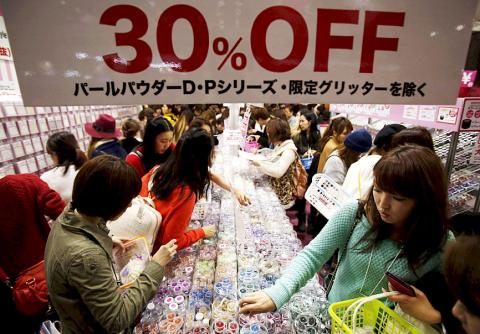 Shoppers look at discounted nail glitter at an exhibition and sale during the Tokyo Nail Expo 2015 yesterday.
Photo: Reuters
Economists surveyed by news agencies had expected a contraction of between 0.2 and 0.3 percent, on average.
A darkening outlook for global growth has put Japanese businesses on the defensive.
One concern is China, where growth in Asia's largest economy is slowing, in some sectors markedly, meaning there is less demand for industrial equipment, construction machinery and other capital goods, much of which has been supplied by producers in Japan.
The Japanese stock market opened lower after the economic report. In late-morning trading, the Nikkei 225 average was down about 1 percent.
Japan grows more slowly than other nations at the best of times, largely because its workforce is shrinking, so even small setbacks can easily send it into reverse.
The latest recession was its fifth since the global financial crisis of 2008, though by some measures, including unemployment, the picture looks less dire.
The recession could embolden critics of Prime Minister Shinzo Abe's economic policies, however. Abe gained office three years ago on a pledge to put Japan on a new and more robust growth path.
So far, his "Abenomics" program, centered on aggressive stimulus by the central bank, has lifted the stock market, lowered the yen's exchange rate — a boon for multinational companies like Toyota that earn a lot of revenue outside Japan — and helped curb persistent consumer-price deflation.
However, it has struggled to approach its ambitious goals for lifting incomes, spending and investment.
Sadayuki Sakakibara, chairman of the Japan Business Federation, or Keidanren, the nation's most influential corporate lobby group, called for further official measures to support the economy. Abe's government is working on a possible new spending package, according to Japanese media reports, which is expected to be worth about ¥3.5 trillion (US$29 billion).
"Two straight quarters of decline needs to be taken seriously," Sakakibara told reporters. "The biggest issue is policies to lift growth. We need some kind of stimulus measures."
Minister of State for Economic and Fiscal Policy Akira Amari described the latest downturn as a temporary dip that belied broadly improving fundamentals.
"Weakness is apparent in some areas, but corporate profits are at record highs and the employment and wage environment is improving," he said in a statement after the economic report's release. "The gentle recovery in the economy is continuing."
The fall in output in the third quarter followed a similar decline in the second, which the government now estimates at 0.7 percent. Since Abe took office at the end of 2012, the economy has experienced six quarters of growth and five quarters of decline.
The latest bout of weakness could add to pressure on the central bank to expand its stimulus efforts, which involve injecting trillions of yen into financial markets each month by buying up government debt. The idea is to keep borrowing costs low and encourage households and businesses to spend.
The bank chose to keep its monetary policy unchanged at its last meeting on Oct. 30, defying the predictions of some private-sector economists who had been expecting new measures, such as an increase in the pace of its bond buying.
Comments will be moderated. Keep comments relevant to the article. Remarks containing abusive and obscene language, personal attacks of any kind or promotion will be removed and the user banned. Final decision will be at the discretion of the Taipei Times.