S Korea's Hyundai Motor launches luxury car brand
South Korea's Hyundai Motor Co yesterday launched a high-end brand named after its Genesis line of vehicles as it looks to expand its presence in the fast-growing luxury auto market.
Hyundai, which, together with affiliate Kia Motors Corp, is the world's fifth-largest carmaker, said its premium Genesis brand would offer six models by 2020, including its existing luxury sedan launched in 2013 and another large sedan to be unveiled next month.
The company has boosted its high-end auto line ups, including Genesis and Equus, in recent years in a bid to shed its image as a cheaper alternative to bigger rivals like Toyota Motor Corp.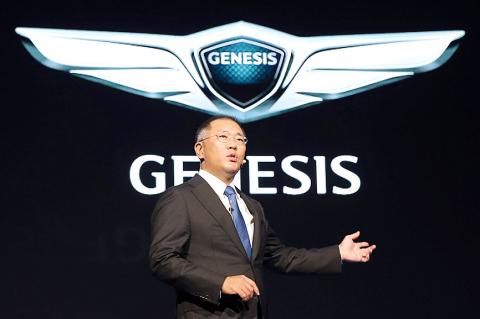 Hyundai Motor Co vice chairman Chung Eui-sun speaks about the automaker's plans at a launch ceremony of the Genesis global brand in Seoul yesterday.
Photo: EPA
The Genesis models — first introduced in 2008 — have won a series of awards for design and are said to be more refined than the firm's past vehicles. The existing sedan to be included in the luxury portfolio is priced at up to US$54,000 before tax in the US.
"High-end cars account for only 10 percent of the global market, but ... the sector is leading the industry in terms of technology and design," Hyundai vice chairman Chung Eui-sun said at a press conference.
"I am confident that the launch of the new brand will play a major role in our future growth," he added, saying consumer demand for luxury cars is growing faster than the overall auto market.
Global shipments of luxury cars grew 9.7 percent last year, outpacing the overall market growth of 4.2 percent, market research firm IHS said.
The brand's new vehicles, including a luxury SUV and sports coupe, will not carry the Hyundai label, but simply the Genesis logo, in the same way that Toyota's Lexus brand only carries its own logo.
The firm last month reported a 25 percent drop in its third-quarter net profit — a seventh consecutive decline in quarterly profit — warning of "many challenges" ahead with slowing demand in China and uncertainties about the US economic outlook.
Comments will be moderated. Keep comments relevant to the article. Remarks containing abusive and obscene language, personal attacks of any kind or promotion will be removed and the user banned. Final decision will be at the discretion of the Taipei Times.