'Minion' toys might not be cursing: scientists
WTF? Scientists said customer reports that their McDonald's Happy Meals toys are using foul language may have been caused by a phenomenon known as pareidolia
McDonald's Corp swears up and down that the little yellow Minions Happy Meal toy is speaking only nonsense words and not something a little more adult.
Experts said the company might be right, and the curse words many hear might be tied to how our brains are primed to find words even when they are not really there.
The world's largest hamburger chain on Friday said it does not plan to take the talking Happy Meal toy out of distribution, even though some customers said it sounds like it is cursing.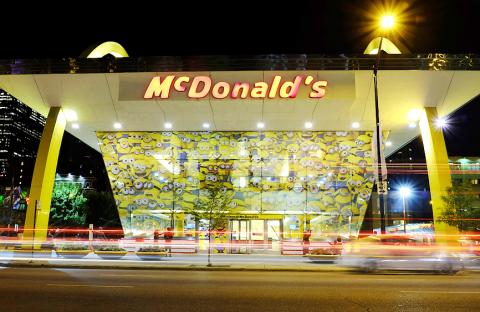 Images of Minions adorn a McDonald's restaurant in Chicago on Tuesday.
Photo: AP
A toy bought by reporters made a sound that could be interpreted as the phrase often abbreviated as "WTF." Another phrase sounded like it could be "Well I'll be damned."
The sound quality of the toy makes it hard to say definitively who is right.
The little yellow Minion characters speak a nonsense language and McDonald's Corp said the Minion Caveman toy makes three sounds — "ha ha ha," "para la bukay" and "eh eh."
McDonald's said in a statement that it had received only a few comments from customers about the toy, which was introduced on July 3.
Nonsense speech sometimes sounds a bit like a real language, and experts said human brains are also wired to look for meaning in noise and images. So people sometimes hear words in gibberish — including words they might think are inappropriate.
The technical name for the phenomenon is pareidolia, hearing sounds or seeing images that seem meaningful, but are actually random. It leads people to see shapes in clouds, a man in the moon or the face of Jesus on a grilled cheese sandwich.
The audio form of pareidolia has been causing confusion for years and years. In the 1960s, the FBI investigated The Kingsmen's version of the song Louie Louie after concerned citizens complained that the lyrics were obscene.
The band denied it, but hardly anybody could figure out the lyrics, including the FBI.
The agency officially declared the words unintelligible.
Comments will be moderated. Keep comments relevant to the article. Remarks containing abusive and obscene language, personal attacks of any kind or promotion will be removed and the user banned. Final decision will be at the discretion of the Taipei Times.