Scooter firm Gogoro aims to revolutionize energy use
Many have said that if a Vespa and a smartphone had a lovechild, it would be the Gogoro Inc (睿能創意) scooter.
However, Gogoro is more about pushing forward "a revolutionary way to reinvent the way people consume energy" than making battery-powered intelligent scooters, marketing vice president Peng Ming-i (彭明義) said.
The company's ambition also goes beyond what is suggested by its motto: "Tesla on two wheels," Peng added.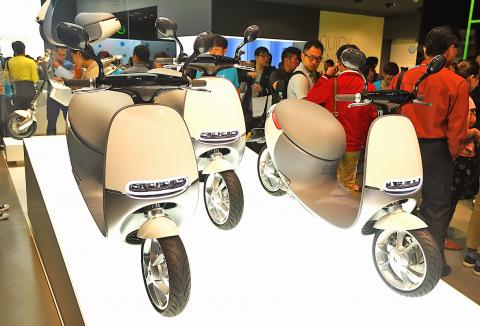 Gogoro electric Smartscooters are displayed at a product promotion event in Taipei on April 19.
Photo: Chien Jung-fong, Taipei Times
Gogoro strives to be a frontrunner in the transportation industry with a smart power grid for swappable batteries, Peng said in a recent interview.
However, before that energy network can be facilitated, Gogoro must prove that its futuristic scooter can make gains among Taiwan's nearly 14 million motorcyclists.
This summer, Gogoro is to start scooter sales — and make public its retail prices for the greater Taipei area — before adding services elsewhere in Taiwan or in 230 other interested cities in the world.
The vehicle is a "charming enough high-performance electric vehicle to accelerate the switch to green energy," Environmental Protection Administration Department of Air Quality Protection and Noise Control Director-General Chen Hsien-heng (陳咸亨) said.
The agency has been promoting electric vehicles because from 20 to 35 percent of PM2.5 pollution — airborne particles measuring 2.5 micrometers or less that can enter deeply into human lungs — in metropolitan areas is produced by gasoline-powered vehicles.
The rate of adoption of electric scooters in Taiwan has been slow since 2008. Last year, just 4,482 electronic scooters were sold nationwide, mainly in the public sector, compared with annual sales of more than 40,000 electric bicycles, according to statistics provided by the Electric Vehicle Development Association in Taipei.
The biggest hurdle to rapid adoption is not a high price, but rather the lackluster performance of electric vehicles, Chen said.
Despite the bureau's subsidies of up to NT$20,000 per vehicle, motorcyclists have been hesitant to switch to electric scooters, as performance often falls short of expectations when it comes to battery capacity, charging time and hill-climbing capabilities, as well as the lack of charging or battery exchange stations, Chen said.
Gogoro's scooter might hold the answer to all these problems, as the company claims its product's performance is equal to that of a 125cc motorcycle, he said.
The Gogoro Smartscooter, 1.73m long and weighing 94kg, can accelerate from zero to 50kph in 4.2 seconds toward a maximum speed of 96.6kph, according to Gogoro, which was founded in 2011 by former HTC Corp (宏達電) executives Horace Luke (陸學森) and Matt Taylor.
The vehicle has a maximum range of 96.6km at an average speed of 40kph per battery swap, the company said.
The proprietary battery design employs 18650-size, cylindrical, automotive-grade lithium ion energy cells supplied by strategic partner Panasonic Corp, Gogoro said.
The electric scooter has a central processing unit that can process data collected by its 80 embedded sensors, including 25 for the batteries, within six seconds, Gogoro said.
Riding data is uploaded to the cloud every 10 minutes through Gogoro's mobile app on a user's smartphone or when a battery is exchanged at a GoStation through near-field communication connectivity, the company added.
The Smartscooter is so technically complicated that even the nation's three top motorcycle makers would have a hard time reproducing it, senior manager of product management Troy Shih (施宜亨) said.
"All of these smart features are the reasons behind the positive feedback from those who have had a test ride on our scooter recently; most of them agreed Gogoro is 'so much fun' and 'fierce' to ride," Shih said.
However, industry watchers, drawing on experience, have not been optimistic about the revolution Gogoro is attempting to begin.
"It is a global trend to be green, but the government has to take the initiative and impose a ban on gasoline-powered vehicles," Electric Vehicle Development Association secretary-general Chang Chen-lung (張振隆) said. "Otherwise, it will be an uphill battle."
Comments will be moderated. Keep comments relevant to the article. Remarks containing abusive and obscene language, personal attacks of any kind or promotion will be removed and the user banned. Final decision will be at the discretion of the Taipei Times.