HTC chair apologizes to shareholders
'LET PEOPLE DOWN': Cher Wang's apology came on the back of the company's share price falling to a 12-year low of NT$98, far from an April 1, 2011, high of NT$1,300
HTC chairwoman and chief executive officer Cher Wang (王雪紅) yesterday apologized to shareholders for the company's disappointing performance over the past few months.
Wang said HTC's performance was mainly due to its poor operational efficiency and overly conservative marketing strategy amid fierce competition in the global market.
"HTC's recent performance has let people down," Wang said at the company's annual general meeting.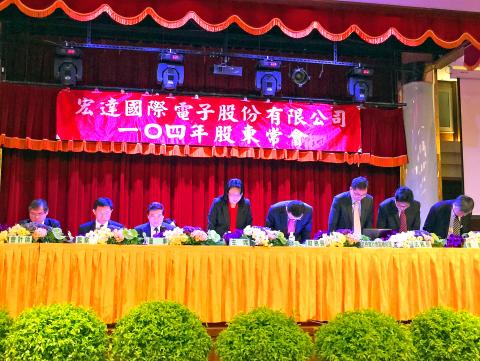 HTC chairwoman and chief executive officer Cher Wang, fourth left, yesterday bows at a general shareholders' meeting in Taipei as she apologizes to investors for the company's disappointing performance over the past few months.
Photo: CNA
Wang's apology came a day after HTC's stock price dropped below NT$100 to a 12-year low of NT$98. Shares stood as high as NT$1,300 on April 1, 2011.
This year's HTC flagship One M9 smartphone, which was launched in April, was criticized for lacking differentiation from its previous model, the One M8. The smartphone also encountered thermal issues causing shipment delays after its sales launch.
In an effort to improve the company's smartphone segment, HTC's core business, Wang said the company plans to launch a "hero product" in October, and make significant improvements in innovation and design for the next flagship model next year.
The company is also planning to improve its product mix strategy for smartphones, she added.
Wang said HTC would reduce its production costs by improving production efficiency as well as optimizing its components supply chain, adding that it would also outsource some orders to increase operational flexibility.
Saying that the marketing budgets of Apple Inc and Samsung Electronics Co are 20 times higher than HTC's, Wang said the firm must improve its marketing strategies.
Chief financial officer Chang Chia-lin (張嘉臨) said that HTC increased research and development investment by 4 percent annually to NT$13 billion (US$419.33 million) last year, while its marketing expenses dropped 19.26 percent to NT$26 billion from a year ago.
HTC does not sell well using conventional marketing strategies, Wang said, adding that it would not renew US actor Robert Downey Jr's contract after this year, but that it would keep working with the popular Taiwanese rock group Mayday (五月天).
In an attempt to develop new business, HTC would develop virtual reality applications, such as the HTC Vive virtual reality headset that it developed with US-based game developer Valve, Wang said.
Wang said that the HTC Vive, which was unveiled at the annual World Mobile Congress in Barcelona in March, has been well-received by the market and that the company would focus on virtual reality development.
"I am upbeat about HTC's outlook. We aim to focus on developing the right products," Wang said.
The company has not announced a launch date for the Vive.
At an investors' conference in February, Chang said that HTC hopes the non-smartphone segment can contribute at least 10 percent of the firm's total revenues next year.
HTC's shares closed up 0.51 percent at NT$98.5 in Taipei trading yesterday, while the TAIEX lost 0.12 percent.
Comments will be moderated. Keep comments relevant to the article. Remarks containing abusive and obscene language, personal attacks of any kind or promotion will be removed and the user banned. Final decision will be at the discretion of the Taipei Times.