Malta offers citizenship and all its perks — for a price
The government aims to boost economic growth with the program, but critics say Malta, which saw 3.5% growth last year, is not an economic basket like other countries offering similar programs
As wealthy foreigners rush to get citizenship in Malta under a new program, the residency requirement is taking many forms.
Russians rent high-end villas, then stay in five-star hotels when they visit.
A US financier plans to live in Switzerland, but occasionally vacation in Malta.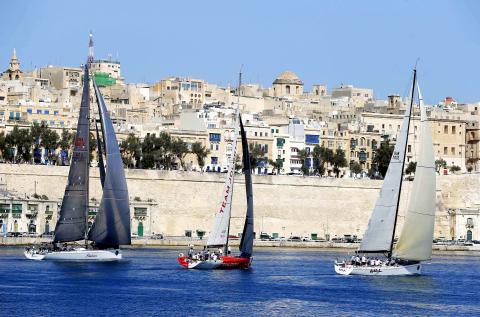 US yacht Shockwave, French yacht Team Jolokia and Hungarian yacht Wild Joe compete at the annual Middle Sea Race in Valletta's Grand Harbour in Malta on Oct. 18.
Photo: Reuters
One Vietnamese businessman, eager to start the clock ticking on the 12-month timetable for residency, sent the paperwork on his private jet to expedite renting a property he had never seen.
"They come twice, once to get a residency card and once to get a passport," immigration lawyer Mark George Hyzler said.
Malta's citizenship program, which offers a passport to those willing to pay 1.2 million euros (US$1.34 million), has been controversial since it was introduced more than a year ago. However, the residency requirements, meant to make the program more palatable, are only increasing the consternation among critics, who say the program has resulted in the sale of citizenship to the global 0.1 percent.
Applicants must show they have rented a property in Malta for 12 months, but they do not necessarily have to spend any time in the Mediterranean island nation, raising the question of what genuine links they are establishing.
"It is questionable how the residency requirement is being applied," Maltese MP Tonio Fenech said.
Lawyers, accountants and real-estate agents say the citizenship program has catapulted Malta onto the radar of the global elite. Applications are pouring in and the program aims to raise 2 billion euros, more than a quarter of Malta's GDP.
"We want to attract individuals who can add value to our country because of their ideas, and their networks and their businesses and their talent," said Jonathan Cardona, CEO of Identity Malta, which administers the Individual Investor Program.
Housed in a sprawling, fortresslike 16th-century building once used as a hospital, the Malta citizenship program nods to the country's multicultural past, punctuated over the years by invasion. Maltese, the official language with English, looks and sounds Arabic, but its speakers are primarily Roman Catholics who pray to Allah.
The citizenship program also reflects Malta's present. The country, which covers 316km2 and is about 80km south of Sicily, has few natural resources and a population of just 424,000, about half that of South Dakota. Malta counts on the reliable sun and shimmering blue sea to attract tourists. Beyond that, it has had to be creative to keep the country's coffers filled.
The tax system, in particular, has been a boon. Some foreign companies can be structured to pay 5 percent in corporate taxes. Malta also has double taxation treaties with 65 countries, allowing individuals and businesses to avoid being taxed in two places.
Significant tax advantages and a pro-business regulator have created a booming financial services industry. It now represents 12 to 15 percent of the country's GDP, up from 6.3 percent in 2004. Online gambling companies have flocked to the island, as have hedge funds.
With a strong corporate base, Malta sailed through the economic crisis relatively unscathed. The economy grew 3.5 percent last year. Unemployment is 5.8 percent, the fourth-lowest in Europe.
Malta was looking to expand that economic growth through the citizenship program. Under the initial plan in 2013, the newly installed Labor Party government proposed selling passports for 650,000 euros, with few other requirements for citizenship.
Almost immediately, it drew protests. Critics say the country was not an economic basket case like other European nations trying similar programs. They also worried that the program would damage its reputation as an attractive place to do business.
"We do not want to form part of a law which prostitutes Malta's identity and its citizenship," Mario de Marco, a vocal member of the opposition, said during the debate.
The opposition took the program to the European Parliament in an effort to block it. While the parliament condemned the program, it could do little else, because citizenship is controlled by national governments.
To placate the parliament and the opposition, the government raised the bar for citizenship. Strict due diligence standards were set to weed out money launderers and criminals. It also raised the cost and adopted a residency requirement.
In addition to the 650,000 euro fee to the government, applicants must now invest 150,000 euros in government bonds, buy property for at least 350,000 euros or rent a place for at least 16,000 euros a year — all of which must be held for at least five years.
"This is not 'tick the box,'" Cardona said.
Hyzler and others say that the newcomers are establishing real links to Malta. They are setting up bank accounts and buying health insurance, both of which are required. They are also joining country clubs and donating to local charities, which is encouraged.
"Clients genuinely want to do more than just make the investment," said Mark Stannard, managing director of the Maltese office of Henley & Partners, a residence and citizenship planning firm.
He said a Saudi national with a Lebanese passport who had applied for Maltese citizenship had recently returned with a delegation of 12 to consider setting up businesses in aviation, life sciences and real estate.
Hyzler said some of his Chinese clients wanted to invest more than the 150,000 euros in government bonds and were weighing establishing businesses.
However, critics have taken aim at the rollout.
Henley & Partners was initially awarded the exclusive rights to market the program and process the applicants, collecting fees in two ways. A family of four with two minor children and two grandparents pays Henley about 135,000 euros to apply; the government pays Henley 26,000 euros to handle that application.
Henley also makes money from ancillary services. The company can rent and sell property through Henley Estates and manage that property for those who are not living in Malta.
In January last year, before the program officially started, Henley gave up the exclusive rights, sharing half of the business with other private companies. However, critics still bristle at the outsourcing of such activities by the government.
"There's no reason Malta should engage a private company to sell its citizenship," said Daphne Caruana Galizia, a columnist at the Malta Independent newspaper. "It's absolutely insulting."
Comments will be moderated. Keep comments relevant to the article. Remarks containing abusive and obscene language, personal attacks of any kind or promotion will be removed and the user banned. Final decision will be at the discretion of the Taipei Times.