Asia Pacific launches 4G with a bang to catch up
Asia Pacific Telecom Co (亞太電信) yesterday said that it aims to increase its number of 4G subscribers to 3 million in the near future to achieve economies of scale.
Since it is the fourth telecom to launch 4G services in Taiwan, the company's initial target is to reach economies of scale, chairman Lu Fang-ming (呂芳銘) told reporters at the launch ceremony for its wireless network.
"As a latecomer to the market, we are focusing on providing high-quality service that lets our customers enjoy high connectivity speed and solid coverage," Lu said.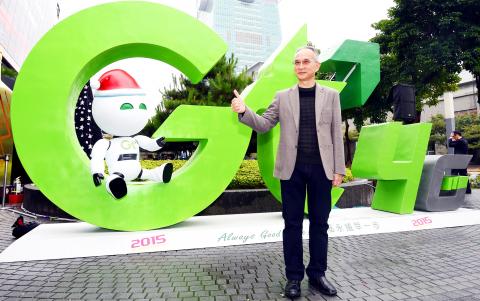 Asia Pacific Telecom Co chairman Lu Fang-ming poses for a picture at a press conference yesterday in Taipei. The company announced the trial operation of its 4G mobile network and introduced its new 4G brand "Gt."
Photo: Lo Pei-teh, Taipei Times
However, Lu said it would be challenging for Asia Pacific Telecom — a subsidiary of Hon Hai Precision Industry Co (鴻海精密), the world's largest contract electronics manufacturer — to reach its target of 3 million clients.
"The most vigorous competition in the 4G service market is likely to peak next year," Lu said.
The country's top three telecoms — Chunghwa Telecom Co (中華電信), Taiwan Mobile Co (台灣大哥大) and Far EasTone Telecommunications Co (遠傳電信) — launched their 4G services between late May and early June, while newcomer Taiwan Star Telecom Corp (台灣之星) established its services in late August.
Lu said that by the end of the year, the total number of 4G subscribers in the country would reach 3 million, compared with the about 29 million current total mobile telecom subscribers.
Asia Pacific Telecom currently has 1.86 million 3G service subscribers, it said.
To expedite the launch of its new services, the company has formed a partnership with Taiwan Mobile — the nation's second-largest telecom — to utilize its 4G facilities.
Asia Pacific Telecom has 15 megahertz (MHz) bandwidth in the 700MHz spectrum for its 4G network, chief marketing officer Jessica Hsu (許芝蘭) said.
The average speed for the company's 4G service is 30 megabits per second and coverage is 97 percent in six major cities and 80 percent in less populated areas, she added.
Asia Pacific Telecom also introduced its new 4G brand, "Gt," which Lu said stands for three things: "Great Technology," "Get Together" and "Good Time."
The brand will be rolled out at the firm's 400 stores nationwide by March next year, Hsu said.
The company said its 4G all-you-can-eat data packages will be the most competitively priced ones on the market at NT$898 per month.
"That is at least NT$500 cheaper than our competitors," Hsu said.
The launch of the new service marks the first time Apple Inc's iPhone has been included in Asia Pacific Telecom packages, Hsu said, adding that the company has enough iPhone 6 and 6 Plus units available across the entire range of memory capacity for all its customers, who can get the smartphones on Friday if they placed their orders yesterday.
Asia Pacific Telecom clients will be able to use its 4G service starting next Wednesday, when it finishes refurbishing the exterior of its flagship store on Taipei's Nanjing E Road, Hsu said.
Comments will be moderated. Keep comments relevant to the article. Remarks containing abusive and obscene language, personal attacks of any kind or promotion will be removed and the user banned. Final decision will be at the discretion of the Taipei Times.