Taipower warns of power shortages
CONSEQUENCES: A Ministry of Economic Affairs official said that without the Fourth Nuclear Power Plant, power would become a major issue for households and firms
Taiwan Power Co (Taipower, 台電) yesterday said the public should consider the possibility of electricity rates being hiked if the Fourth Nuclear Power Plant does not go online.
The comment came in response to former Democratic Progressive Party (DPP) chairman Lin Yi-xiong (林義雄) beginning a hunger strike in Taipei yesterday to protest against the completion of the plant in New Taipei City's Gongliao District (貢寮) and to encourage the government to recognize that the public is opposed to the plant.
Lin, 72, began his hunger strike at the Gikong Presbyterian Church (義光教會) on Xinyi Road.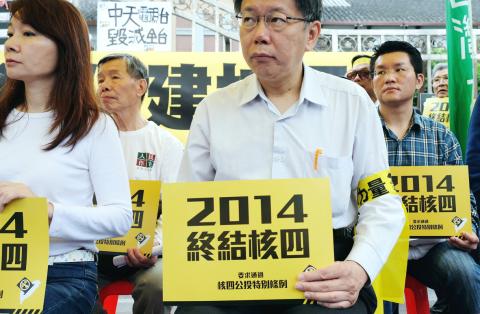 Anti-nuclear protesters yesterday hold placards reading "Terminate the Fourth Nuclear Power Plant in 2014" outside the Legislative Yuan in Taipei.
Photo: Sam Yeh, AFP
"We respect Mr Lin's dedication to pushing the government to implement a specific energy policy [to halt construction of the plant], and that is all I can say," Taipower vice president Roger Lee (李鴻洲) told reporters on the sidelines of a corporate event.
As the supervisor of the plant's construction, Taipower welcomes the public to express their support or dissent for the Fourth Nuclear Power Plant and nuclear energy, Lee said.
However, one should consider whether there is need to complete construction of the plant from more than one perspective, and people may be required to pay more for non-nuclear plant generated electricity, Lee said.
Taipower plans to finish its security test at the controversial plant by the end of June, as scheduled by the Ministry of Economic Affairs, and will let the government decide whether to install the fuel rods in accordance with its energy policies afterward, he said.
Wu Yu-jen (吳玉珍), a spokesperson for the ministry's task force on the plant, said Taiwan would face power shortages if the Fourth Nuclear Power Plant does not become operational, since the three operating plants — Jinshan Nuclear Power Plant in Shihmen District (石門) and Guosheng Nuclear Power Plant in Wanli District (萬里) of New Taipei City and Ma-anshan Nuclear Power Plant in Ma-anshan (馬鞍山), Pingtung County — are scheduled to be retired by 2025.
Despite the generation of electricity from alternative energy sources, electricity shortages would remain an issue and would have a considerable impact on households as well as businesses, she said by telephone.
"The shortage issue would only get worse, especially in northern Taiwan," Wu said.
Taipei uses up to 40 percent of the total electricity generated annually by Taipower nationwide because of its large population.
Taipei residents might face power restrictions sooner than expected, as the Linkou coal-fired power plant in New Taipei City and the Hsieh-ho coal-fired power plant in Keelung are scheduled to be shut down this year.
If the three operating nuclear power plants retired as scheduled in 2025, the country's total electricity supplies would drop by 40 billion kilowatts a year, if Fourth Nuclear Power Plant was not completed, which would leave up to 90 percent of household demand for electricity unmet, Wu said.
Comments will be moderated. Keep comments relevant to the article. Remarks containing abusive and obscene language, personal attacks of any kind or promotion will be removed and the user banned. Final decision will be at the discretion of the Taipei Times.