ICANN boss talks about future
Fadi Chehade, chief executive officer of the Internet Corporation for Assigned Names and Numbers (ICANN), said market demand for top-level domain names had been growing steadily around the world. In an interview with 'Taipei Times' staff reporter Helen Ku on Thursday last week, Chehade talked about the US' long-term plan to hand over its stewardship of ICANN and the expansion in domain name
Taipei Times (TT): What is ICANN's position on the US Department of Commerce's March 14 statement?
Fadi Chehade: First thing is that it is important to know the US government fulfilled their promise, and the promise was that at some point, when the ICANN community is ready, they would step back and be equal to everybody at the table. They just announced they intended to do it 15 years ago. And, on Friday, they did not stop their job. They continued their job, but they said that they planned to basically stop what they do on some conditions. Their condition is that the community come back to them with a proposal. They will review the proposal. If the proposal meets their principles, then they will sit aside and be equal to everybody.
What ICANN does to the registry of the Internet does not change. What changed is who ensures we are doing our job, but not the job. It's very important to have that distinction. Our roles are not changed. It's that who checks if ICANN is really doing its job changed. We don't need a new institution. We simply need a new mechanism that is transparent, that is open, that keeps ICANN's implementation accountable to everybody. Our job continues. It's just a question of who watches over our work.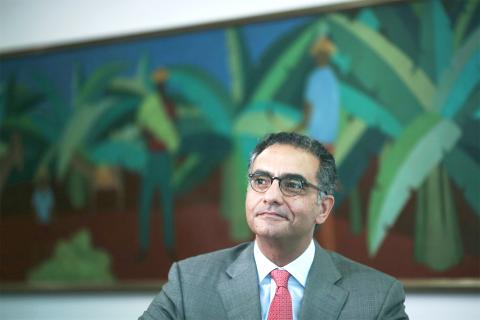 Fadi Chehade, chief executive of the Internet Corporation for Assigned Names and Numbers, attends a meeting Brasilia, Brazil, on Oct. 9 last year.
Photo: Reuters
TT: Has the Edward Snowden issue pressured the US government to make the announcement? Does ICANN play a role in the US National Security Agency's surveillance program that was exposed by Snowden last year?
Chehade: The US government's announcement said ICANN "has never been readier." We started discussing how that day would happen a year-and-a-half ago, even before the event of Snowden.
When people said Snowden caused all of this, [I would say] the fact is that we have been working very hard on this, and that is why we are here today. The timing is completely natural to me. Of course, people want to attach it with something political because most people frankly don't know what we have been doing over the past 15 years.
Anyway, our work has nothing to do with what Snowden does. But, there's a bigger discussion that has been going on, and that is separate from ICANN. Of course, ICANN is part of the Internet governance, but only one part. Internet governance is a much broader subject. It has to do with not only how the Internet works, but also how we use the Internet, privacy, security, tax ... a million things.
My hope is that we enable institutions from all over the world to get involved in Internet governance and to address the issue rapidly.
TT: Since 2012, ICANN has received up to 1,900 applications for generic top-level domain (gTLD) names, among which 290 cases have resulted in contracts being signed, including those filed by Taiwan's Acer Inc (宏碁) and HTC Corp (宏達電). How can we expect ICANN's new gTLD program to impact the Internet industry?
Chehade: At the beginning, we expected to receive about 300 to 400 applications, and the fee is as high as about US$200,000 for each application. So, we were surprised by the outcome, which showed that there's a great appetite for Web addresses.
Some people said this is like "real estate" of the Internet. For me, people are using these names such as ".paris" to make innovation, to express themselves, to come up with a new marketing idea. By opening up the market, we didn't think it would go this big, but it happened.
I was in Beijing a couple of days ago. A company told me it has 530 applications ready for the next round [of new gTLD registration].
So, there is an appetite because people want their brands to be put on the Internet. It's our job to offer competition, to offer choice. Competition is good because it makes us move to do things.
TT: From a business perspective, what makes companies apply for a new gTLD if they have already established Web sites that can function to attract traffic? For example, why are the domain names ".hotel," ".shop" and ".web" so popular or valuable from companies' points of view?
Chehade: It gives people an alternative way to find their way on the Internet other than search. It's a kind of innovation because we give people multiple ways to use the Internet with different mechanisms. People are no longer constrained to finding things only through Google's or Yahoo's search engines.
I met with the president of a country. He said he would give each citizen, on his or her day of birth, a Web address that goes with a name followed by a dot and the country name, so he would be able to then interact with that citizen using special communication channels based on the interests of the citizen.
So, people find new ways to govern politically. People find new ways to sell products. Everything will sort itself out through the DNS [domain name system]. The DNS is very powerful. Let's not forget that's what makes the Internet the Internet. What makes it one because it has a common address system. If we lose that, search engines will not work.
TT: Given that domain names can be obtained or valued in dollar terms, how high can the bid price be for a new gTLD that is sought by multiple parties?
Chehade: We haven't done any auctions yet. The first auction is going to happen soon.
In the past, when multiple parties were arguing for the same unregistered domain name, we pushed them to resolve it in their own ways. Some have resolved the issue, but privately. So, I don't know how much they paid because they paid each other.
TT: People often point out the side effects of issuing domain names, such as cybersquatting, phishing or trademark conflict. What is ICANN's solution or mechanism to the common worries, if any?
Chehade: Clearly, as the domain name system grows and because it's transnational, people use the Internet to do bad things at the expense of other people's interests.
Recently, we got a call from an attorney-general who told us that there was a growing number of Web sites in his country for child pornography. We notified the domain-name registrar. They replied that the company owning the domain name is in another country, so we called it and figured out the situation covers multiple countries. We therefore called Interpol [International Criminal Police Organization]. Anyway, we cannot solve the problem, but we coordinate. We found the perpetrator and shut down their system.
The lesson is that we — ICANN — very often need to participate with governments, law enforcement agencies and even the private sector to address problems. This is why the Internet cannot be governed from one top-down government.
TT: Is ICANN planning a second round of its new gTLD program?
Chehade:/Yes, there will be a second round. There's no question about that. As to when and how, that depends on the community. If the community says "Fadi, let's open it right now," then we will do it.
My gut feeling is that we should do it because it's a fair thing to do. There are very few applications in Africa and Latin America. I think if we open it, there'll be many more. When I went to Dubai, hundreds of companies said they were ready to apply to have Arabic-letter names, because many of the hundreds of millions of people living in the Middle East don't speak English.
TT: What about domain names in Chinese characters?
Chehade: We received 116 applications for domain names that are in non-Latin scripts. There are 12 languages, such as Korean, Chinese and Arabic. Up to 90 percent are for Chinese domain names. I'm happy about that because that's another proof that ICANN wants to become global and wants to embrace Asia.
Comments will be moderated. Keep comments relevant to the article. Remarks containing abusive and obscene language, personal attacks of any kind or promotion will be removed and the user banned. Final decision will be at the discretion of the Taipei Times.