Funeral group taps aging Asia market
REGIONAL EXPANSION: Taiwan's Lung Yen Life Service Corp plans to expand its business across the Asia market with designer urns and body spa treatments
Lung Yen Life Service Corp (龍巖集團), Asia's second-biggest cemetery and funeral-service operator, plans to expand to Hong Kong and Singapore as populations across the region age.
The company is in talks with the respective governments to obtain licenses and will invest at least NT$10 billion (US$331 million) in each market, chairman and founder David Lee (李世聰) said in an interview on Wednesday. It has formed a unit to study overseas markets including China and Malaysia, he said.
"We plan to become the world's largest brand among the Chinese community, with a focus in Asia," Lee said. "We are also optimistic on the China market because of its large population."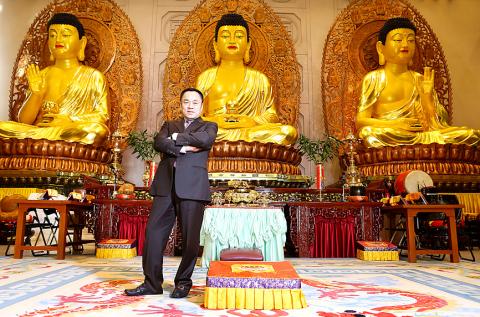 Lung Yen Life Service Corp chairman David Lee poses for a photograph in front of Buddha statues in True Dragon Tower, the company's columbarium in New Taipei City, on Wednesday.
Photo: Bloomberg
Lung Yen, based in Taipei, is expanding outside Taiwan to serve a bigger population pool. Those over age 65 accounted for 11 percent of China's 1.3 billion population as of 2012, and 24 percent of Japan's population, Citigroup Inc analyst Eric Lau (劉德雄) said in a report on Wednesday, citing data from Euromonitor. China's death-care service industry reached 46.5 billion yuan (US$7.7 billion) in 2012, Lau said.
The company expects to receive government approval to enter Hong Kong and Singapore in two years, Lee said. The investments will include cemeteries, columbariums — vaults with niches for urns containing the ashes of cremated bodies — and funeral services, Lee said at his True Dragon Tower, a columbarium in New Taipei City (新北市). He declined to name his Hong Kong partner or the location of the planned site.
Lung Yen also wants to enter 10 Chinese cities in the next 10 years, Lee said. The company in June last year announced a 2 billion yuan investment in China's eastern city of Wenzhou in Zhejiang Province. The price of land is still under negotiation, Lee said this week.
"The key is to win support from local governments," Lee said. "We would also consider mergers or acquiring some local partners in China."
About 90 percent of the company's profit comes from the columbarium and cemetery business, said Lee, who is targeting 10 percent growth in both revenue and profit this year compared with last year.
Burial plots in some luxury cemeteries in Taiwan have become more expensive than homes. Plots cost as much as NT$500,000 per ping (3.3m2), according to taiwanfuneral.com, the biggest funeral service data tracking site in Taiwan.
The nation's home prices in the third quarter last year were NT$241,000 per ping, the latest data from Ministry of the Interior show.
Prices for a standard one-person columbarium niche, measuring about 0.16m2, start from NT$80,000 and sell for as much as NT$500,000, according to taiwanfuneral.com.
Prices at Lung Yen's True Dragon Tower start at NT$300,000 for a one-person niche and a space for a family of 24 can go for as much as NT$12.5 million, Lee said.
Lung Yen's top-line porcelain urns manufactured by Okura Art China, a favorite brand of the Japanese royal family, according to the company's marketing materials, sell for as much as NT$500,000.
The company also offers a spa service for the deceased, where the embalmer follows a 35-step process including hair and body washing, massage, hair dying and manicure, he said.
Families can watch the process. A two-hour spa treatment costs about NT$25,000.
Lung Yen shares gained 0.4 percent to NT$84.30 at the market close in Taipei trading yesterday after rising as much as 1.1 percent.
The GRETAI Securities Market Index, which includes all stocks that have been listed for more than a month on the nation's secondary board, fell 0.5 percent.
The company, with a market capitalization of about US$1.1 billion, may also list in Hong Kong, Lee said, without giving a timetable.
Asia's biggest operator of cemeteries and funeral facilities by market capitalization is China's Fu Shou Yuan International Group Ltd, which debuted in Hong Kong last month and is valued at about US$1.4 billion, according to data compiled by Bloomberg.
Comments will be moderated. Keep comments relevant to the article. Remarks containing abusive and obscene language, personal attacks of any kind or promotion will be removed and the user banned. Final decision will be at the discretion of the Taipei Times.