Moet champagne group debuts 'made in India' bubbly
The world's biggest champagne house, Moet Hennessy, has launched its first "made in India" sparkling wine as it seeks to capture a young, urban and increasingly sophisticated market of drinkers on the subcontinent.
The French champagne producer has invested in a new winery in Dindori, near western Maharashtra state's Nashik region, regarded as India's wine-making heart.
Moet, owned by French luxury goods group LVMH, launched its Chandon India NV (non-vintage) Brut last month, saying it aimed to "build the sparkling wine culture" in the country.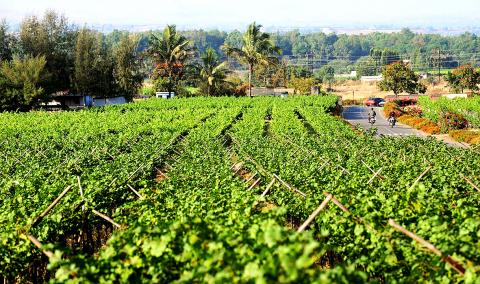 Motorists drive through the vineyards at the Sula Vineyard in Nashik, India, on Dec. 1 last year.
Photo: AFP
INTERNATIONAL TASTE
"Chandon will be targeted at 25-to-35-year-old urban men and women who are interested in embracing an international lifestyle, while taking pride in all that's Indian," Moet Hennessy Estates and Wines president Jean-Guillaume Prats said.
The Chandon range will be the first offering from the new Indian Moet Hennessy estate, which must convince whiskey-loving high-end Indian consumers to switch from the grain to the grape.
Prats told reporters that as a foreign company, Indian law prohibits the firm from owning its vineyards, "so we source grapes from Nashik farmers."
Nashik, around a four-hour drive northeast of Mumbai, has dozens of wineries and is known as the "Napa Valley of India" in reference to the Californian region famous for its vineyards.
Moet, which has also produced a Chandon Brut Rose made from Shiraz and pinot noir for the Indian market, selected an area 565m above sea level just north of Nashik, which boasts lower temperatures and less precipitation than on the coast in order to obtain a high quality grape and produce a crisp and dry brut.
While all champagnes are sparkling wines, all sparkling wines are not champagne — that name being legally reserved for wines produced in the Champagne region of France.
The sparkling wine market in India is still embryonic in size. The wider Indian wine market grows by 15 percent to 20 percent a year and should continue to grow at this rate in the coming years, Indian wine consultant Alok Chandra told reporters.
About 18 million liters of wine are sold every year in India, but the "sparkling wine market, locally produced or imported, makes up less than 10 percent of this volume," Chandra added.
Moet also has rivals in the sparkling market. India's Fratelli Wines group, an alliance of Indian and Italian families, launched its own sparkling wine last month, but says it is not expecting immediate big returns.
LOCAL RIVALS
"It's a nascent market. Patience is necessary," Fratelli Wines director Kapil Sekhri told reporters.
Another player is Sula Vineyards, India's largest wine company, founded in 1997 in Nashik by a Silicon Valley engineer named Rajeev Samant, who quit his high-tech job and started a winery.
Sula last month came out with three variants of its premium sparkling wines.
"Sparkling wine is seen as a celebratory wine [in India] with a wider audience than wine," Sekhri said.
Moet's Chandon India NV is made from a combination of chenin blanc, chardonnay and pinot noir.
"We've put in place long-term partnerships with farmers who, in turn, work closely with our viticulturists to ensure a superior grape quality," Prats said.
Savvy marketing techniques, such as sponsorships and wine-tasting events, are crucial for vineyards in India. Advertising alcohol is banned and each state imposes its own, often crippling, taxes and regulation.
Over the past decade, Indian wines have become increasingly popular in the country as their quality has improved and the number of wine magazines has mushroomed.
Yet wine drinking is still largely confined to upmarket bars, hotels and restaurants in cities and affluent private social events.
"There is a larger market scope for sparkling wines in India," Chandra said.
The so-called "bubbles" category in India "has had very little competition," he added.
Moet's Chandon NV is priced at 1,200 rupees (US$19) a bottle, costlier than its nearest rival priced at 950 rupees offered by Sula, which has a dominant share of India's wine market.
However, the price is well below the 4,500 rupee per bottle that the foreign-made Moet Chandon Brut Imperial Champagne charges, making the locally made bottle much more affordable for Indian fizzy wine fans.
Comments will be moderated. Keep comments relevant to the article. Remarks containing abusive and obscene language, personal attacks of any kind or promotion will be removed and the user banned. Final decision will be at the discretion of the Taipei Times.