US mining giant faces fight with rising Indonesia
As Indonesia transitions toward democracy and its economy flourishes, there is a growing sense that foreign operations like Freeport's Grasberg mine have taken a lot from the nation, but given little back
High in the snow-capped mountains, the sight of tribesmen roaming in loincloths contrasts sharply with that of miners using hi-tech machinery to extract gold and copper ore at a huge US-owned facility in remote Indonesia.
The heavily guarded complex is the resource-rich country's biggest mine and has been a controversial presence for more than five decades, during which it has been accused of environmental devastation and extracting huge wealth, while giving too little back to a poverty-wracked area.
On a rare visit by foreign media to Freeport-McMoRan Copper & Gold Inc's Grasberg complex in Papua Province, reporters saw first-hand the challenge of mining at one of the world's biggest gold and copper mines, where thin oxygen makes it difficult for workers to breathe.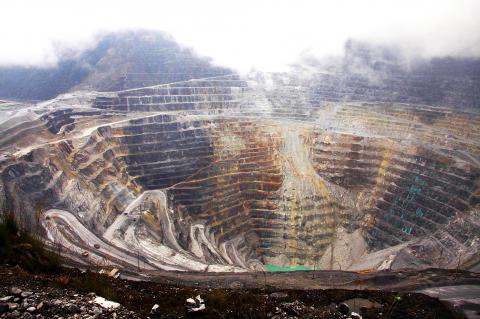 Clouds shroud Freeport-McMoRan Copper & Gold Inc's Grasberg mining complex in Indonesia's eastern Papua Province on Aug. 16.
Photo: AFP
The dangers that come with the job were highlighted in May when a training tunnel collapsed, killing 28 miners.
The company now faces a fight with the state as it looks to extend its contract at a time when emboldened politicians are taking aim at foreign miners with measures forcing them to leave more of their profits in the country.
During the three-decade rule of former Indonesian president Suharto, which ended in 1998, Freeport had a relatively easy life and was showered with privileges.
Yet 15 years on, Indonesia is transforming into a freewheeling democracy and booming economy, with mining firms among foreign companies under scrutiny in what critics say is a climate of rising economic nationalism.
"There is the feeling that Freeport has taken a lot and has shared poorly with the local area," said a government source familiar with ongoing negotiations to extend the mining giant's contract.
Authorities have demanded foreign miners give up full ownership of their mining assets in the country, pay higher taxes on mineral exports and build smelters in Indonesia instead of shipping ore abroad to be processed.
"It's as if I have rented a house for 20 years, but 10 years after it has all been agreed the owner comes to you and says: 'This is unfair, I must hike the rent,'" Tony Wenas of the Indonesian Mining Association said.
Freeport vigorously defends its operations in Indonesia, saying it is the single biggest taxpayer to the state. Ruby Seba, Freeport Indonesia's vice president of technical affairs, said the company sought to get its contract extended to 2041 as it aims to build what it says will be the world's biggest underground mine at Grasberg.
"It wouldn't be fair for us to put aside money to invest and suddenly have our contract severed," he said.
For many, government action to get more back from foreign companies is overdue, with Freeport seen as a symbol of foreign exploitation in Indonesia.
"After more than 40 years of Freeport being in Indonesia, the tribes living in the area are still walking around naked," Juli Parorrongan, a spokesman for the Freeport workers' union, told reporters.
Union head Sudiro, who like many Indonesians goes by one name, added: "It is ironic that in an area that is at the heart of Freeport's success, most of its workers are still living in poor conditions and are dependent on loan sharks."
After years of criticism, the company has recently sought to be more open. Freeport says it has invested lavishly in Papua — building an airstrip, health clinics and housing in villages that have been neglected by authorities.
Nevertheless, many indigenous Papuan tribespeople still live in the undeveloped province in grinding poverty.
There is little doubt over the environmental consequences of the Grasberg mine, which has produced vast quantities of gray "tailings" waste — material left over from ore separation — which stretch over an area of 230km2 and have scarred the otherwise beautiful landscape of rugged Papua.
Freeport insists that the tailings are harmless and is undertaking a project to grow plants, such as tomatoes, in the waste to back up its claim.
The controversy surrounding the complex has been heightened by a series of difficult episodes, from shooting deaths to industrial action.
Since 2009, 15 people have been killed in a spate of mysterious shootings by snipers hiding out in the mountains.
Freeport buses have now been fitted with armor and bulletproof glass and travel in convoy for safety as they transport workers. The site is guarded by hundreds of military and police sentries.
While some point to separatists as being behind the shootings — an insurgency has been simmering in Papua since it was handed to Indonesia in 1969 — others believe it may be the Indonesian military seeking to justify their presence and squeeze more money out of Freeport.
It also faces challenges from within. Thousands of contract workers staged a three-month strike in 2011 that crippled production, claiming they were the lowest-paid Freeport workers anywhere in the world. The action ended when the company agreed to a pay hike.
Despite all the difficulties, Freeport is determined to stick by Grasberg, the crown jewel in its empire.
During a visit to Jakarta in May, Freeport McMoRan chief executive Richard Adkerson described Grasberg as "a great asset for the country."
"There's no thought of walking away from this. No thought at all," he added.
Despite voicing concerns, Freeport has signaled it is willing to comply with Jakarta's demands, recently signing a memorandum of understanding to build copper smelters and agreeing to pay higher royalties on its exports.
While its stance has become tougher, the Indonesian government is unlikely to want to scare off such a big taxpayer.
Most observers have little doubt that Freeport's contract will be extended and the company is in Indonesia to stay.
"My guess is Freeport will get what they want, but there might be conditions," the government source said, adding that Indonesian politicians would be out to make money from any deal to fund campaigns for elections next year.
Comments will be moderated. Keep comments relevant to the article. Remarks containing abusive and obscene language, personal attacks of any kind or promotion will be removed and the user banned. Final decision will be at the discretion of the Taipei Times.