Adidas is urged to monitor suppliers
'BAD FISH': Labor activists say Taiwanese Adidas supplier Dynamic Precision Industry responded to health problems caused by poor working conditions by laying off workers
Local labor groups urged sportswear giant Adidas yesterday to address poor working conditions at the factories of its Taiwanese suppliers in China, amid complaints of occupational diseases and health issues, such as benzene poisoning.
The activists pressed their calls in front of Adidas' flagship store in Taipei in a protest that was part of a movement jointly launched by labor activists in Taiwan, China, Hong Kong and Indonesia, the protesters said.
Their primary target was Dynamic Precision Industry Corp (鉅明), a Taiwanese supplier that produced golf clubs for Adidas at its factory in Guangzhou, China, before recently shutting down its production line.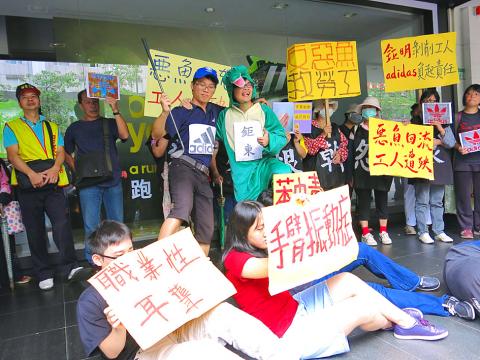 Labor activists protest in front of Adidas' flagship store in Taipei yesterday, urging the sportswear giant to address poor working conditions at the factories of its Taiwanese-owned suppliers in China.
Photo: CNA
The activists accused the company of having maintained poor working conditions at the Guangzhou plant, which they said affected about 100 workers.
Some of them went deaf, while others have experienced benzene poisoning, or developed pneumoconiosis or hand-arm vibration syndrome, the activists said.
The Guangzhou plant's management responded to the health complaints by laying off the workers and paying them severance, the activists alleged.
Those who refused to leave their jobs were pressured into doing so when the company cut their wages and eventually halted production, they said.
The protesters also expressed their opposition to Dynamic Precision Industry's plan to move back to Taiwan, shouting the slogan: "Bad fish swims back, victimizing workers in Taiwan."
Workers at another Taiwanese factory in China that makes goods for Adidas also came down with benzene poisoning, and one of them died in March, the activists said.
They called on Adidas to meet its social responsibilities by improving working conditions at its contract manufacturers and opening itself to supervision by labor groups.
They demanded that Adidas properly compensate the six workers from Dynamic Precision Industry with hand-arm vibration syndrome and see to it that workers suffering from benzene poisoning receive immediate treatment.
Lin Fan-shun (林凡舜), a public relations manager at Adidas, accepted a petition presented by the labor groups, but said he was not authorized to comment on the complaints because they involved manufacturers in China.
Lin also declined to respond positively to the activists' request for a reply to their demands within five days.
Comments will be moderated. Keep comments relevant to the article. Remarks containing abusive and obscene language, personal attacks of any kind or promotion will be removed and the user banned. Final decision will be at the discretion of the Taipei Times.