HTC may consider merger: analyst
Taiwanese smartphone vendor HTC Corp (宏達電) could consider a merger with Chinese mobile telecommunications equipment maker Huawei (華為) to survive in the competitive smartphone market, JPMorgan Securities (Asia Pacific) Ltd said yesterday.
"With a hero product [the new HTC One] unable to turn its prospects around, the other game changer could be a merger," JP Morgan analyst Alvin Kwock (郭彥麟) said in a report.
Kwock said a combination of the expertise of Huawei and HTC could create huge synergies, especially for Taoyuan-based HTC, because it would lift HTC's ranking in the smartphone market from the 13th-largest smartphone maker as of the last quarter to the fourth-largest with Huawei.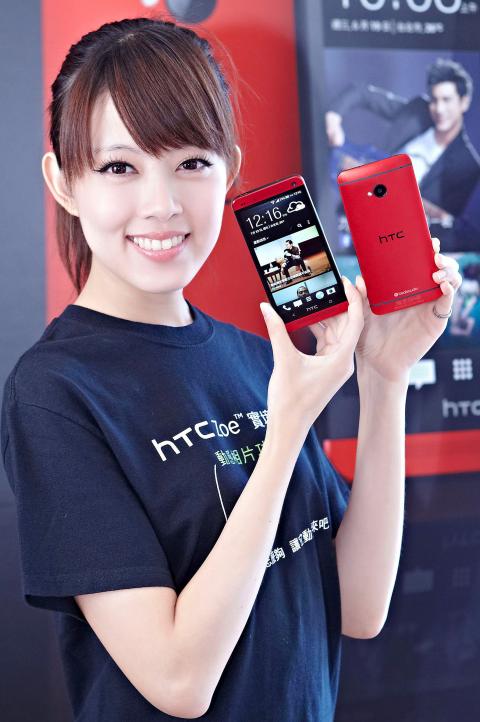 A woman displays a new, red version of HTC's latest smartphone, the HTC One, at its global launch in Taipei yesterday. The new version was launched with Taiwan's third-largest telecoms operator, Far EasTone Telecommunications Co.
Photo: CNA
According to Gartner Inc, Huawei had grabbed nearly 3 percent of global smartphone market share by the end of the first quarter of the year as the world's sixth-largest mobile phone brand, following Samsung Electronics Co's 23.6 percent, Nokia Oyj's 14.8 percent, Apple Inc's 9 percent, LG Electronics Inc's 3.7 percent and ZTE Corp's (中興) 3.4 percent.
Holding less than 2 percent of market share, HTC has been struggling to make a comeback in the Android smartphone market after Samsung adopted aggressive marketing strategies and claimed nearly a quarter of global market share.
"Combining Huawei's China expertise with a brand that has a superior product and consumer experience could boost future growth for the company by bringing complementary expertise in-house," Kwock said.
As Huawei lacks a major consumer brand, but has a large home market, HTC might find it profitable to team up with Huawei because it has excellent products but lacks the right market with a strong demand for high-end smartphones, Kwock said.
Citing HTC's second-quarter operating margin of 1.5 percent, which missed a consensus of between 2.5 percent and 3 percent by brokerages, Kwock said "there is very limited opportunity for HTC to match Samsung's Galaxy S4 price cuts," forecasting that the Taiwanese smartphone vendor, at best, would report flattish sales results for the current quarter.
"We like the new HTC One, but find it hard to find reasons to get involved with the stock as an investment at this time," Kwock said.
JPMorgan reduced its rating for HTC's shares to "underweight" from "overweight," and cut its target price to NT$100 from NT$390 which the brokerage offered on April 13.
HTC's shares closed down 1.03 percent at NT$191.5 in Taipei trading yesterday, underperforming the benchmark TAIEX market, which advanced 0.5 percent.
To boost sales during the second half of the year, HTC yesterday launched a red version of its new One flagship model with Taiwan's third-largest telecoms operator, Far EasTone Telecommunications Co (遠傳電信).
"The new HTC One, with its three different colored metal casings, will become the most beautiful 'mobile scenery' in their daily life," said Jack Tong (董俊良), president of the company's North Asia-Pacific region.
Samsung cut the selling price for its flagship Galaxy S4 model by more than 20 percent within three months of the product's launch in major markets like the US, the UK, India and Hong Kong, but HTC may not be able follow suit because there is limited room for the company to weather price drops with such a low quarterly operating margin, Kwock said.
He admitted that the brokerage had overestimated the One's power for HTC to make a "mini-turnaround" in the short term after the model received widespread positive market reaction.
However, with Apple rumored to launch a larger-sized iPhone later this year and Samsung showing signs of rolling out a new Galaxy smartphone equipped with a flexible display next year, HTC may face more challenges ahead and not able to sustain its improving profitability momentum for too long, he added.
Comments will be moderated. Keep comments relevant to the article. Remarks containing abusive and obscene language, personal attacks of any kind or promotion will be removed and the user banned. Final decision will be at the discretion of the Taipei Times.