Bountiful work, but scant wages angers Cambodia
As night falls in Phonm Penh, thousands of weary workers stream from textile factories, reflecting the abundance of jobs created by the clothing industry's desire for cheap labor.
However, as the number of international clothes companies tapping into Cambodia's workforce grows, so does anger at the low wages and tough conditions that come with such employment in the global garment industry.
Twenty-five-year-old Ou Nin looks exhausted as she describes working for a US clothes brand for just above US$5 a day.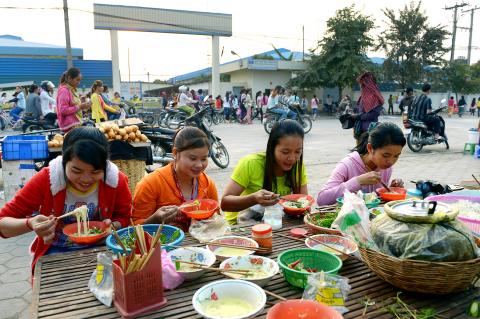 Garment workers eat breakfast in front of their factories on the outskirts of Phnom Penh, Cambodia, on March. 7.
Photo: AFP
"They print on T-shirts. The smell is very unpleasant, it is unbearable," she said while waiting for the truck to take her home.
Overwork, malnutrition and poor ventilation are to blame for staff fainting in factories since 2010, said Moeun Tola, program manager at the Community Legal Education Centre, which provides advocacy for workers.
"It's often hot inside these factories. Sometimes they inhale toxic substances," he said, adding that last year, 1,100 workers are known to have lost consciousness at work while a further 30 fainted in a workshop in mid-January.
With bonuses and overtime, workers can earn an average of US$110 a month — a low salary given Cambodia's cost of living — forcing many to work beyond the legal limit of 60 hours a week.
A series of strikes point to festering discontent — leaving the big global clothes brands and the factories they subcontract to trade accusations over who is driving salaries down.
Protests by workers have also turned ugly. Three women, employees of Puma supplier Kaoway Sports, were wounded when a gunman opened fire on protesters demanding better working conditions at factories in eastern Svay Rieng Province in February last year.
The shooting prompted Puma, Gap and H&M to express their "deep concern" and urge a thorough investigation.
However, discontent lingers on the factory floor where 400,000 of the 650,000 people employed in the industry work for foreign firms.
Soey Eao, who has worked in the industry for five years, lives in a dormitory behind her factory, paying nearly US$20 a month to share a room with three colleagues.
Hundreds of workers co-exist in similar spartan concrete lodgings, without water or electricity.
"With overtime, I can reach US$78 a month. I work 12 hours a day, sometimes seven days in a row to earn more," Soey Eao said, adding that she sends one-third of her salary to her family. "I've already protested for a raise. I cannot even eat well because I'm trying to put money aside, I just buy the minimum to survive."
Soey Eao is hopefulthat her situation may change with her union pushing to boost the minimum wage from the US$60 a month to about US$100.
Yet while strikes have turned up the heat on factory owners and international brands, she said that many workers still "do not even know they have rights."
The International Labour Office, which regularly inspects textile mills in the country, has called for a new industrial agreement between the government, factory owners and unions.
"Clearly there is some room for additional payment," the group's Jill Tucker said, adding that after Bangladesh, Cambodia is one of the cheapest places to make garments.
Cambodia's factory owners say the problem is not their fault and blame the profit margins of foreign brands for driving down wages.
"If our wages were comparable to Vietnam, would investors come to Cambodia? No way," said Ken Loo, secretary-general of the Garment Manufacturers Association in Cambodia.
"They [buyers] are the ones who set the margin, not us," he said, warning that if Cambodia raises the minimum wage it would "have to be prepared for what comes after," hinting that companies may choose to relocate.
However, several big brands contacted by media denied they were cutting wages.
Swedish fashion giant H&M, which in October last year was forced to deny accusations that it encouraged "slave-like" wages at a subcontractor's factory, said it was not directly responsible for the factories producing its garments.
"H&M does not own any factories and therefore does not set or pay factory workers' wages," company spokesman Malin Bjorne said, adding that Cambodian factories produce for many brands.
"The employees at a factory are paid the same wages regardless of which brand they are producing garments for — and regardless of what the final price will be in the store," Bjorne said.
Comments will be moderated. Keep comments relevant to the article. Remarks containing abusive and obscene language, personal attacks of any kind or promotion will be removed and the user banned. Final decision will be at the discretion of the Taipei Times.