Facebook taps well-known architect to design 'paradise workspace' expansion
Facebook said on Friday it had hired renowned architect Frank Gehry to design the company's campus expansion, which includes a new building with a rooftop garden.
"When it is completed, we hope it will provide a paradise workspace for the 3,400 engineers who will one day fill it," a company statement said.
The expansion to the campus in Menlo Park, California, will be designed by the Canadian-born Gehry, known for the Guggenheim Museum in Bilbao, Spain, and the Walt Disney Concert Hall in Los Angeles, among others.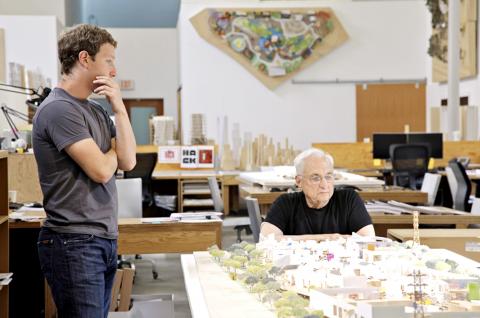 Facebook CEO Mark Zuckerberg and architect Frank Gehry look over Gehry's design for an addition to the Facebook campus on Friday.
Photo: Reuters
Gehry, known for his deconstructive style and buildings that sometimes appear unfinished, also designed the Stata Center at the Massachusetts Institute of Technology and the Cinematheque Francaise in Paris.
"At every step of planning the new building, Frank has taken into account our engineering culture," Facebook said. "It will be a large, one-room building that somewhat resembles a warehouse. Just like we do now, everyone will sit out in the open with desks that can be quickly shuffled around as teams form and break apart around projects."
The new building will include "cafes and lots of micro-kitchens with snacks so that you never have to go hungry," the statement said.
"And we'll fill the building with break-away spaces with couches and whiteboards to make getting away from your desk easy," it said.
Facebook last year took over the headquarters of Sun Microsystems in Menlo Park, moving from cramped headquarters in nearby Palo Alto.
The company seeks to break ground on the new building early next year, with hopes for "a quick construction."
It said the exterior also "takes into account the local architecture" and that "a tonne" of trees would be planted on the grounds and on the rooftop garden.
"The raw, unfinished look of our buildings means we can construct them quickly and with a big emphasis on being eco-friendly," Facebook said.
Facebook will maintain its current campus and use an underground tunnel to connect the two areas.
Comments will be moderated. Keep comments relevant to the article. Remarks containing abusive and obscene language, personal attacks of any kind or promotion will be removed and the user banned. Final decision will be at the discretion of the Taipei Times.