EVA Airways orders more B777 jets
SAVINGS: EVA is adding seven more of the Boeing aircraft to its fleet of 15 B777s, which compared with the B747s, consume 22% less fuel and cost 20% less to operate
EVA Airways Corp (EVA, 長榮航空), the nation's second-largest airline, yesterday announced plans to add seven more of Boeing Co's 777-300ER aircraft to its fleet to replace its B747-series airplanes and pursue greater energy efficiency.
The air carrier signed a US$930 million contract with Boeing to purchase three new B777-300ERs and inked an agreement to lease the remaining four planes from GE Capital Aviation Services Ltd, a commercial aircraft financing and leasing unit of General Electric Corp.
Deliveries are set to start in June 2014 and be completed by June 2016.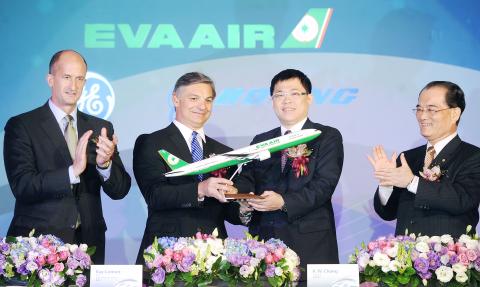 EVA Airways chairman James Jeng, first right and General Electric (GE) vice chairman John Rice, first left, applaud as EVA president Chang Kuo-wei, second right, and Boeing Commercial Airplanes senior vice president Ray Conner, second left, hold a model B777-300ER airliner in Taipei yesterday as EVA signed an agreement to purchase three B777s from Boeing and lease four more from GE.
Photo: Liao Chen-huei, Taipei Times
"Deployment of the additional seven of these aircraft and gradual replacement of our other aircraft types will standardize our fleet and give us greater operational flexibility," EVA president Chang Kuo-wei (張國煒) said at the signing ceremony.
EVA is a launch customer for the B777-300ER, Chang said. The air carrier operates 15 B777-300ER aircraft on its long-haul routes.
Compared with the B747-series aircraft, the B777-300ER consumes 22 percent less fuel, reduces carbon dioxide emissions by 22 percent and costs up to 20 percent less to operate, Chang said, citing analyses from Boeing.
Following the delivery of the new aircraft, EVA will gradually replace the operations of its B747 series fleet, Chang said, adding that the introduction of new planes will improve the company's profitability.
Other than passenger jets, EVA will also move ahead with its plans to purchase cargo freighters after seeing some recovery in the cargo business, to replace its old cargo aircraft, Chang said.
EVA has so far divested itself of two of its six MD-series freighters this year and is expected to sell the other four by the end of this year.
Although the price of Brent crude oil fell 5.28 percent to US$113.18 a barrel at the Monday close from a week earlier, the airline sector continues to face the challenge of high jet fuel prices this year, which dragged down carriers' profitability in the first quarter.
Aviation fuel prices may not reflect a recent downturn in crude oil prices right away, as it is set according to the average crude oil price from the previous month, Chang said.
However, Chang said the company is confident it would return to profit in the third quarter on the back of seasonal demand in the passenger business and will make efforts to break even for the first half of the year.
EVA reported NT$1.08 billion (US$36.77 million), or NT$0.33 per share, in net losses for the first quarter of the year, company financial data showed.
Meanwhile, Chang said he expects crude oil prices to continue their drop in the long term amid an increase in demand for alternative energy sources and falling demand for oil.
"In my opinion, a reasonable crude oil price is expected to fall at least to the level of US$80 a barrel," Chang said.
Comments will be moderated. Keep comments relevant to the article. Remarks containing abusive and obscene language, personal attacks of any kind or promotion will be removed and the user banned. Final decision will be at the discretion of the Taipei Times.