Foxconn hoping to increase its prices
SAUCING APPLE Protesters demonstrated outside Foxconn and Hon Hai meetings in Taipei and Hong Kong as the firms defended a decision to hike salaries
Foxconn International Holdings (富士康) said it will seek higher prices from its clients to help offset wage hikes at a plant in southern China that has been hit by a series of suicides.
Meeting shareholders in Hong Kong for the first time since the deaths, executives at Foxconn, owned by Hon Hai Precision Industry Co (鴻海精密), said the company hoped to reach a consensus with customers this month.
At a separate shareholder meeting in Taipei, Hon Hai chairman Terry Gou (郭台銘) said a report he had commissioned showed no clear link between the suicides and work issues.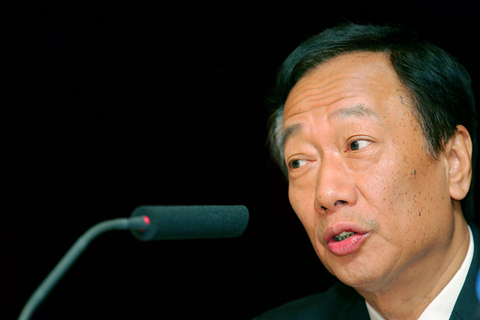 PHOTO: MAURICE TSAI, BLOOMBERG
"We have to carry the 12 crosses, we have no options," Gou said, referring to the 10 suicides and two other attempted suicides.
Hon Hai has announced two wage raises in the past two weeks for workers at its Shenzhen plant. Gou said the company would raise wages at all its factories in China, but the pay hikes at the different factories will vary because of differences in the cost of living.
Gou, 59, said the decision to raise salaries proved the company was "not making money by exploiting workers."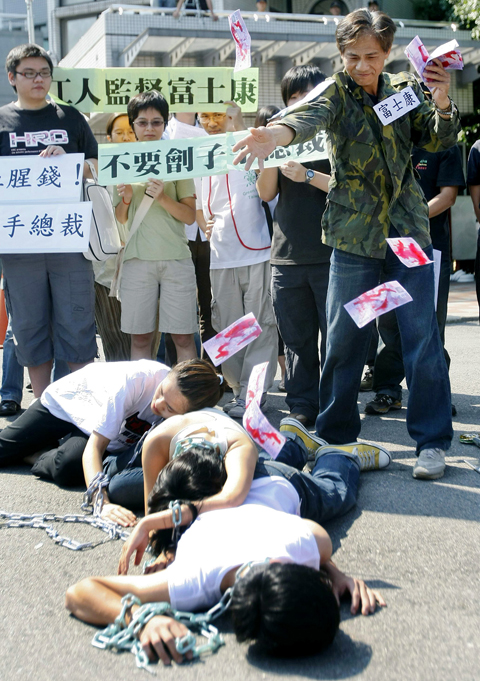 Protesters pretending to be Foxconn employees crawl in chains as a man throws money on them during a demonstration outside Hon Hai headquarters in Tucheng, Taipei County, yesterday.
PHOTO: PICHI CHUANG, REUTERS
"The pay hike may have a short-term impact on profits, but it's good for the long term, because it will attract better and more stable workers," he said.
Hon Hai has lost more than US$3 billion market value in two days as investors fret over the pay increases.
"I think the pay hike is too much," said a shareholder surnamed Chen who was attending the Taipei meeting. "I'm concerned this will increase production costs and affect profits."
Hon Hai will also offer start-up loans of 200,000 yuan (US$29,275) each to employees who have been with the company for more than five years, Gou said.
Workers who apply for and obtain the loans will be able to return to their hometowns, start their own businesses and even place orders with Hon Hai, he said.
But in a sign of changes ahead, Gou said the company was looking for locations to shift some unspecified production from China to automated plants in Taiwan and wanted local authorities in China to manage its worker dormitories.
He also said he would limit overtime at Chinese plants to no more than three hours a day.
A group of about 30 protesters gathered outside Hon Hai's meeting, including labor activists, green and gay groups and others.
"I think Gou is trying to use salary hikes to cover up how his production line is killing people. It's a crime in management and we really despise it," said Huang Hsiao-ling (黃小陵), secretary-general of the Worker Injury Association.
About 30 protesters stood outside the Hong Kong shareholders' meeting calling on Apple to act on the Foxconn situation.
Holding placards reading "Workers are not machines. They have self-esteem" and a picture of a rotten apple, protesters handed a petition to a company representative.
They also waved a cardboard cutout of chief executive Steve Jobs with devil's horns and another placard featuring the company logo and the words "Bloody Apple."
Gou also announced plans to more than double the size of a share issue to fund future expansion for Hon Hai, including into cloud computing and LEDs. He said the firm would issue up to 880 million shares in depositary receipts.
Hon Hai's shares on the Taiwan Stock Exchange dropped 6.38 percent at one point yesterday, close to the 7 percent maximum allowed, after ending on Monday 5.62 percent lower. The shares closed 5.11 percent lower yesterday at NT$111.5.
Comments will be moderated. Keep comments relevant to the article. Remarks containing abusive and obscene language, personal attacks of any kind or promotion will be removed and the user banned. Final decision will be at the discretion of the Taipei Times.