Beijing tightens rules on business personal loans
China tightened rules on personal and working capital loans to prevent them from being used for speculation after credit growth and asset prices gained.
Lenders should not "over-grant" the loans that companies use to finance goods and services and must reasonably calculate their "real demand," the China Banking Regulatory Commission said in a statement on Saturday. The rules took effect on Feb. 12.
The tightening reflects concern that funds might have been diverted to stocks and property, raising the risk of asset bubbles and bad loans. Banks extended 19 percent of this year's 7.5 trillion yuan (US$1.1 trillion) lending target last month and property prices rose the most in 21 months.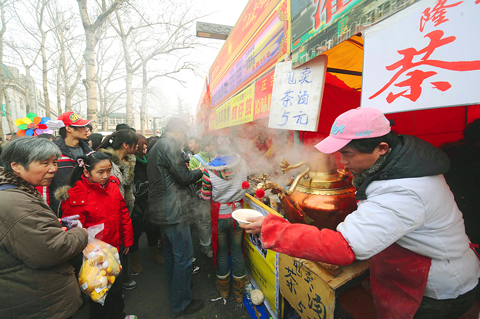 Chinese make last-minute purchases as vendors pack up their stalls at a Lunar New Year temple fair in Beijing on Saturday. Retail sales soared during the Lunar New Year holiday, state media reported, a possible sign of growing confidence among consumers.
PHOTO: AFP
The regulator will punish lenders that freely distribute working capital loans and companies that use such loans for purposes such as capital expenditure, stake investment and some other areas that the government doesn't allow, the commission said.
China took the second step in a month to restrain inflation and damp asset prices by ordering lenders on the eve of a weeklong holiday to set aside larger reserves. The benchmark Shanghai Composite Index has declined 7.9 percent this year to 3,018.13 on Feb. 12, before the reserve-ratio announcement.
Commission chairman Liu Mingkang (劉明康) said in an opinion piece last month that bank loans had been channeled into stock and property markets and the watchdog "stepped in to stop that."
China tightened rules on loans for homes, automobiles, fixed-asset investments and working capital to limit speculative flows.
The commission said advances exceeding 300,000 yuan fore personal loans would be given directly to the borrower's counterparty, rather than the borrower. The rules also took effect on Feb. 12.
Banks will be barred from issuing personal loans without identifying the intended use and they must meet the borrowers in person before granting credit to avoid fraud, the commission said.
Draft rules were announced in July and October.
Separately, foreign direct investment in China climbed for a sixth month as the effects of the financial crisis faded. Investment rose 7.8 percent from a year earlier to US$8.13 billion, the Ministry of Commerce said in a statement on Saturday. The gain compared with a doubling in December.
Foreign direct investment in China started to climb in August last year after falling for 10 straight months because of the global financial crisis.
China's US$90.03 billion total for last year was 2.6 percent less than in 2008, according to commerce ministry figures released last month.
The country's outbound non-financial investment was US$2.36 billion, the ministry said, without giving a year ago comparison.
Comments will be moderated. Keep comments relevant to the article. Remarks containing abusive and obscene language, personal attacks of any kind or promotion will be removed and the user banned. Final decision will be at the discretion of the Taipei Times.